This Versatile Topper Works
As An Appetizer or A Pasta Dish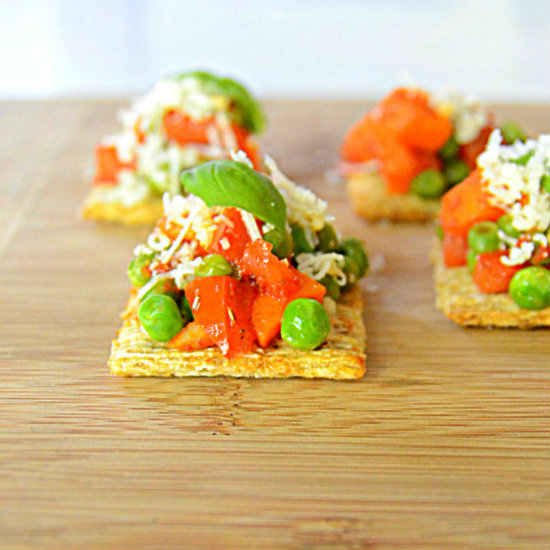 Use this recipe to top your favorite cracker or toast for an appetizer. Or place this over a thin spaghetti or angel hair for a deliciously light meal.
Family is coming to visit this week. And wanted to get in this post before all heck breaks loose. (If my family reads this, oops, sorry.)
YES, we have winners in the Giveaway. To be announced soon!
Hope you try this very easy tasty recipe! I submitted this in Martha Stewart's Triscuit Contest just for fun.
recipe
Makes 12+ appetizers
Or 1 to 1 1/2 servings for pasta (Double the recipe for 2-3 adults meals)
2 Teaspoons olive oil
1 Garlic clove-minced
1/2 Generous cup diced carrots (about one large)
1/2 Generous cup frozen peas
1 Large Roma tomato-seeds removed and diced
Pinch of red pepper flakes
Pinch of Italian spices (optional)
Pinch of sea salt (optional)
1/3 Cup shredded Asiago cheese
Basil leaves as garnish
Sauté the garlic in the olive oil over low medium heat for about one minute. Add the carrots and continue to sauté until the carrots are al dente. Careful not to scorch the garlic. Add the peas, tomatoes, red pepper flakes, spices and salt. Just heat through. Let cool and then serve on top of your favorite cracker or toast. Sprinkle with cheese and garnish with basil.
For pasta … choose a thin spaghetti or angel hair and cook according to directions. Serve cooked warm ingredients over the pasta with a sprinkle of cheese and basil leaves. OR use bow tie pasta cooked al dente, and stir in cooked ingredients plus cheese and refrigerate. Serve as a light pasta salad.
Fast, Easy, Healthy, Tasty!