Something Special with Bratwurst
Homemade Hot Mustard and Sautéed Apple Slices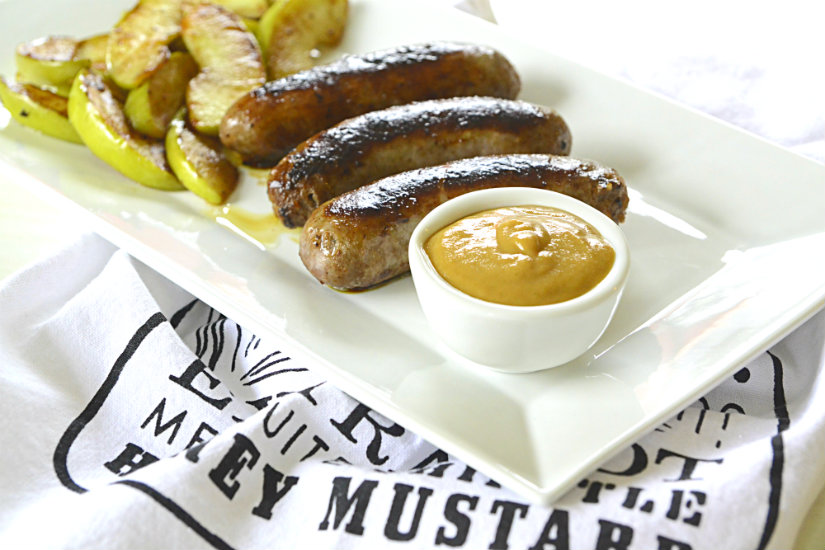 You've heard, Not for Sissies! Something my mother would say periodically … Not necessarily about food. It just comes to mind when I eat this Hot Mustard. It dresses up this Bratwurst in the most tasty way. Add some homemade sauerkraut or sautéed Granny Smiths. It doesn't get any better!
If you know anything about mustard making you realize you need some time. This condiment can't be mixed and eaten immediately. It's very bitter at this point and too hot. The longer it sets the milder it becomes. This particular recipe is a one day recipe which means it will be HOT but the bitterness will disappear. It takes less than 5 minutes to mix up … So start your morning by putting this together and by dinner it will be ready to eat. Eat with caution.
Recipe
Hot Mustard
8-10 Tablespoon Servings-enough for a small crowd
0.85 Ounces by weight of ground mustard
2 Generous tablespoons of red wine vinegar
1 Tablespoon dark brown sugar-packed
2 Pinches of salt
Mix these ingredients and allow 8 hours to set at room temperature, covered. If you taste it at this point it is extremely bitter. In the next hours this will disappear.
Just before serving add:
Pinch of garlic salt
2 Tablespoons of finely minced yellow onion that has been sautéed in Bratwurst drippings and drained.
Bratwurst
1 Sausage link per person or two for the bigger appetites
Cook the Bratwurst in a skillet over medium heat until done. (160 degrees F internal temperature is usually recommended) Remove to a dish and keep warm.
Sauté the onion for the mustard in the drippings until very tender, several minutes. Remove and set aside for mustard mixture.
Sautéed Apples
1/2 Apple per person (Granny Smith recommended)
After cooking the Bratwurst remove from skillet. Add cored and sliced apples to the same skillet with Bratwurst drippings. (This can be following the onion sauté.) Sauté the apples for about 5 minutes until slightly tender and browned. No additional seasoning is necessary.
This is to be served along side the Bratwurst. But if you are serving sauerkraut instead you can make a dessert sauté with the apples.
In a clean skillet sauté the apples in two tablespoons of melted butter over medium heat, sprinkle with brown sugar and a little cinnamon. Taste and add additional sugar and cinnamon as necessary. You may need a little sprinkle of salt if you used unsalted butter. The salt will bring out the flavors. Sauté for about 5 minutes or until the apples are slightly tender. Serve warm alone or with a little ice cream.
Apples Brats Homemade Hot Mustard