Two Cheese Asiago Pasta Salad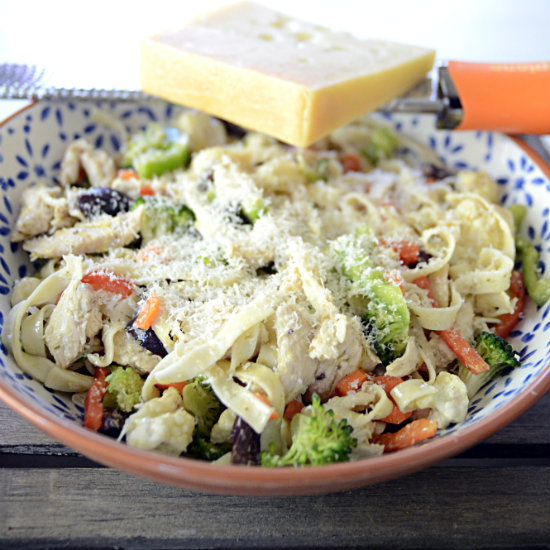 Ecstatic! A surprise package of cheeses, fresh and seasoned (aged), arrived from the producers of Asiago Pdo (Protected Designation of Origin) … from the Asiago Region in Italy. Cheese has been produced not for hundreds of years in this region but thousands. I'd say, practice makes perfect!
Not sure if I've ever tasted fresh Asiago before today … soft, melt in your mouth texture but not sticky, mild smelling and tasting, not bitter nor salty-definitely maintaining a bit of sweetness all the way through. It's amazing! As far as shelf life after opening, this one is fairly short … maybe two weeks but don't hold me to that. It won't last that long around here anyway. The seasoned Asiago Pdo has three levels of maturity, 3-6 months, over 10 months and over 15 months. My little wedge was from the first level. And just an aside, domestic Asiago that I purchase locally (made in Wisconsin) is in the 5 month range. Obviously the flavor (nutty) and smell (bread-like) increase and change with the seasoned process. And rather than accepting my opinion that there is a definite taste difference, Pdo vs Domestic Asiago, do your own taste test.
Try it in a great pasta salad like this one!
Recipe
Serves 4-6
Preheat oven to 400 degrees F
1-1 1/2 Pounds skinless and boneless chicken breasts
3/4 cup 1/2 inch cubes fresh Asiago Pdo, 1/4 Cup grated
1/3 Cup sliced kalamata olives
1 1/2 Cups chopped broccoli or small florets
1 1/2 Cups cauliflower florets
2 Large carrots-peeled, small end sliced thinly, large end diced
1 Medium green bell pepper- quartered & sliced
1 Medium red bell pepper-quartered & sliced
1/4 Cup grated Aged Asiago Pdo (smoother tasting than some domestics … Parmesan in a pinch but will produce a different flavor)
1 Garlic clove-minced
3-4 Ounces Fettuccine-cooked al dente (see package) in boiling salted water (1-2 teaspoons salt). Then drained well, and one tablespoon salad dressing added to cooked pasta, mixed and set aside.
Dressing
1/2 Cup extra virgin olive oil
1/2 Cup red wine vinegar
1 Garlic clove-crushed
1 Teaspoon Dijon mustard
1/2 Teaspoon salt
1/2 Teaspoon pepper
1/2 Teaspoon Italian spices
Mix dressing ingredients well.
Place chicken breasts in a baking dish and sprinkle with 2-3 tablespoons of dressing. Sprinkle too with the minced garlic and the 1/4 cup of grated fresh Asiago. An additional sprinkle of Italian spices is an option. Place in preheated oven and bake for 20-25 minutes or until done.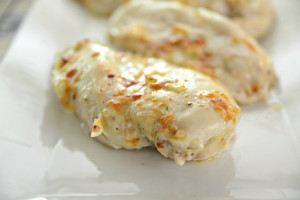 In the meantime, prepare the vegetables (set aside) and cook the pasta.
In a large bowl place the pasta after cooking and sprinkle with a tablespoon of the dressing and the 1/4 cup of aged Asiago. Mix well. Set aside.
After the chicken is done let cool for about 10 minutes. Then pull into small pieces or if you prefer cut into 1 inch cubes. Place into a small bowl and add about 3 tablespoons of
dressing, mix. Let set to room temperature.
Now to the pasta add the vegetables, olives, chicken, fresh Asiago mix thoroughly. Pour about half the dressing you have left onto the mixture and mix well. Taste for the need of additional dressing, salt or pepper. Add as needed. Refrigerate for 1-2 hours or overnight to blend flavors or eat right away.
Have aged Asiago for sprinkling at the table.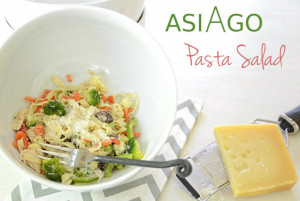 I love especially the melting properties of Asiago. More recipes to come.
NOTE: This is my opinion of this product, Asiago Pdo, and not a paid advertisement. If you are unable to find Asiago Pdo at your local grocery I will be giving more information at a later time. Or contact me directly.
MANGIA MANGIA!