Banana Nut Cake
Caramel Glaze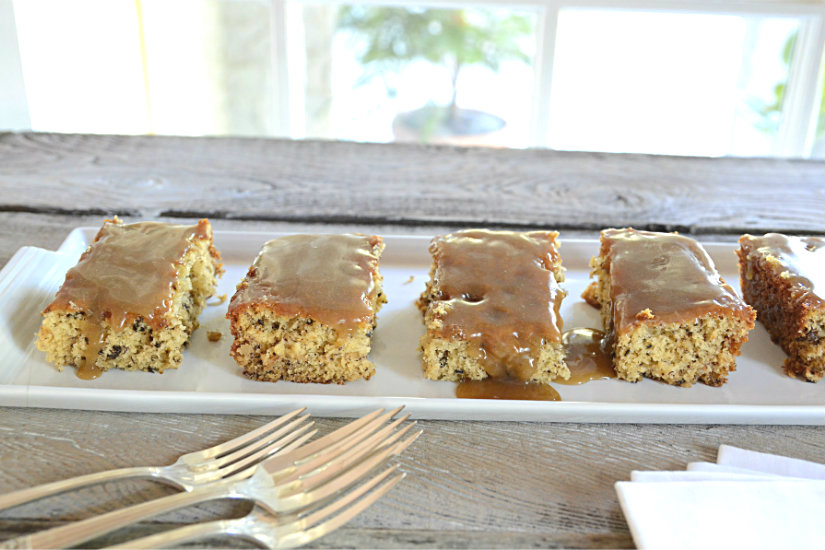 This is an old fashioned recipe or two … made for my mother. She has been very ill and you may have noticed this has impacted my posting. She is recuperating well and I'm making my way back to full swing.
This quick dessert is a simple 8 inch square banana cake … One of those last minute one bowl mixes providing a use for those over-ripe bananas. Delicious with coffee, tea or milk.
Recipe
Preheat oven to 350 degrees F
Prepare an 8 inch square baking dish with cooking spray or butter and then flour
1 Cup all purpose flour
1 Teaspoon baking powder
1/2 Teaspoon baking soda
1/2 Teaspoon salt
3/4 Cup sugar
1/3 Cup butter-room temperature
1/3 Cup mashed banana
1 Egg
1/3 Cup buttermilk
1/4-1/2 Cup chopped nuts (optional)
Measure the first 4 ingredients into a large bowl. Whisk.
Add sugar and whisk.
Add the remaining ingredients except the nuts and mix with a beater for 1-2 minutes until well incorporated.
Fold in nuts.
Pour into baking dish and bake for 30-35 minutes. Check with a toothpick in the middle. Or touch center lightly to see if the cake bounces back.
Caramel Glaze
This is a revised recipe noted on allrecipes.com. 1/4 Cup salted butter
1/4 Cup dark brown sugar
1/4 Cup sugar
2 Tablespoons half-n-half or cream
1/2 Teaspoon vanilla extract (or maple for a different flavor) Melt the butter on low/medium heat in a small sauce pan. Add sugars and dissolve. Cook on low for 2 minutes stirring constantly. Remove from heat and add extract. Cool slightly. Spoon over each slice of cake or spoon over the entire cake before slicing. Enjoy!!