Beet & Arugula Salad with Feta
And Bacon, if you're into it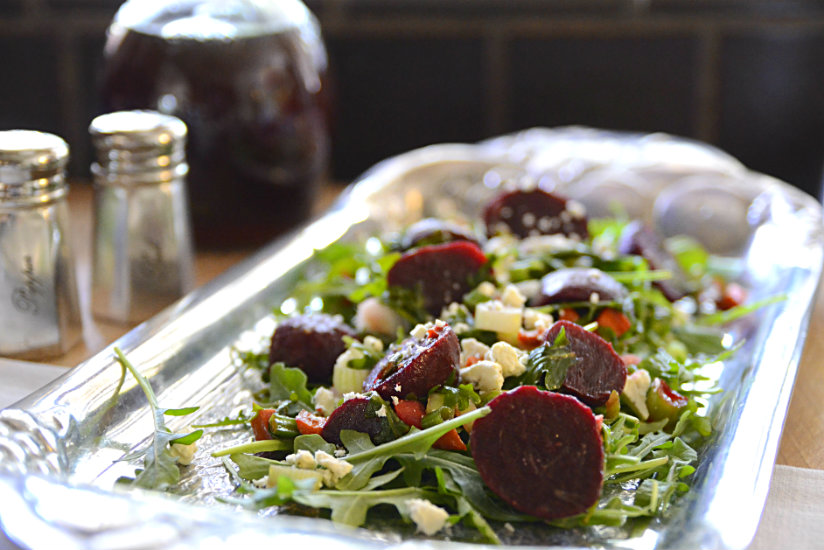 104 degrees today and an ongoing drought have me thinking lighter more hydrating meals. This means fruits and vegetables. Are you thinking what I've heard many times before beets taste like dirt. I consumed my fair share of dirt as a toddler, so I've been told, and I can honestly say it's not sweet and while red beets are earthy they lack the grittiness. Still fearful? For a less earthy taste try the golden beet.
Make this recipe an easy quick fix with jarred baby beets (not pickled) or use fresh with a little added prep time. Make this completely vegetarian or add a little cooked bacon. Just a great dinner salad for a hot hot day.
Recipe
1 Tablespoons extra virgin olive oil
1 Carrot-peeled and diced
1 Rib of celery-diced
1 Clove garlic-peeled and sliced thinly
*2 Slices thick bacon-cut 1/2 inch across into pieces
1 Pound beets-baby beets are best
2-3 Ounces of baby arugula
3 Green onions-sliced thinly including tops
Feta cheese crumbles
Dressing
1/4 Extra virgin olive oil
2 Tablespoons red wine vinegar
1/4 Heaping teaspoon sugar
Sea salt and ground pepper to taste
In a medium skillet heat the tablespoon of olive oil over medium heat. Sauté the carrot and celery until al dente. Remove the vegetables to a bowl with a slotted spoon.
Add the garlic to the heated skillet and sauté. Turn skillet heat down if needed to avoid burning the garlic.
Add the  cooked (*peeled, drained and cut in half) beets and sauté with garlic several minutes. Remove to the bowl with the vegetables.
Add the arugula and green onions to the bowl. Add the dressing and toss. Sprinkle with feta crumbles.
*To cook fresh beets for this recipe trim the greens about 2 inches above the top of the beets. Rinse the beets well but avoid breaking the skin and avoid removing roots (this helps prevent the red liquid from getting on your hands and everywhere-yes, it stains). Cover the beets with salted water and simmer for about 45 minutes. Drain and peel. Slice in half for the recipe. Handle the beets with gloves to avoid staining your hands.
*For those who would like to include bacon fry the bacon pieces in a separate skillet until crisp. Remove, drain, set aside. Drain the grease from the skillet except for about 1/2 tablespoon. Next instead of adding the beets with the garlic add the beets to this skillet with the grease and sauté for several minutes. Remove beets to the bowl. Garnish the final product with the crispy bacon bits.