Valentine Blondies and Brownies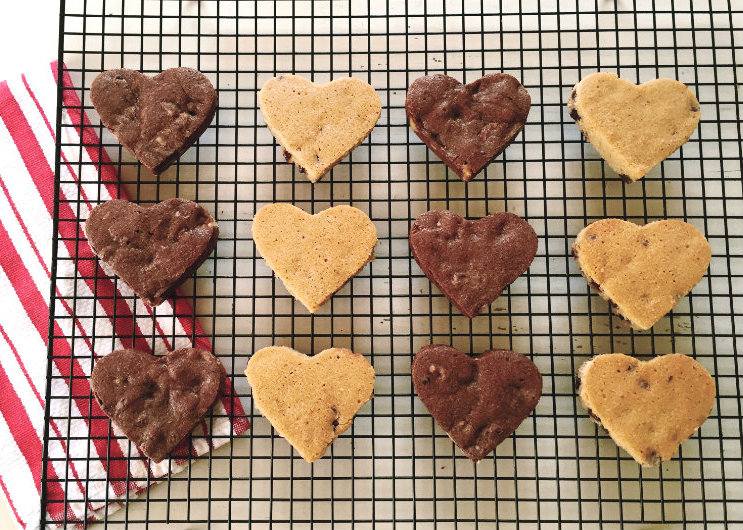 Enjoying these is just minutes away. Make both without hassle. The recipes are almost exact. Yet they're deliciously different. Can you imagine … Not everyone in our family likes brownies! Bake the dough in a lift out bottom pan, tart pan, to make it easy to use your heart shaped cookie cutter.
Recipe
Preheat oven to 350 degrees F
Blondies
1/2 Cup butter-room temperature
2 eggs-room temperature
1/2 Cup brown sugar-packed
1/4 Cup granulated sugar
1/4 Teaspoon salt (add another 1/4 if using unsalted butter)
1 cup all purpose flour
3/4 Teaspoon vanilla
1/2 Cup chocolate chips
Cream butter and eggs. Add the sugars and cream until light.
Whisk salt into flour in separate bowl.
Add vanilla to the egg/sugar/butter mix and beat in.
Slowly add the flour and incorporate in the remainder of the dough.
Fold in the chocolate chips.
Butter or cooking spray a tart pan with a lift out bottom. Place dough into this and spread evenly.
Baking will differ depending on the size of pan. These cook up pretty quickly. In a 8″ square about 15 minutes. Suggest testing with a toothpick in the center after baking for 10 minutes. If the toothpick is clean remove from the oven.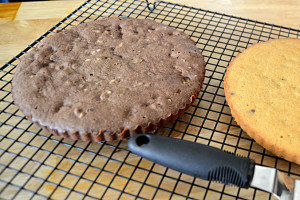 Here are both cooling before cutting. I used a long frosting spatula to remove the cookie from the false bottom. Next, when cutting with your cookie cutter place the top of the heart to the outer edge with the tip of the heart pointed to the center. Closely cut each cookie around the outer edge of the cookie. You will be left with a "star" in the center … The kids will love it!
Brownies
This brownie recipe is cake like and more suitable for cutting into heart shapes. It accommodates covering with frosting if you like. (Try these other brownie recipes: Double Fudge and 5 Minute Mix Brownie)
Use the Blondies recipe except make these changes.
Substitute 1 cup granulated sugar for the two sugars above (use just one cup sugar total)
Use 2 ounces of melted unsweetened chocolate. Use your microwave to melt in 30 second increments. Not too long in the microwave at once or it will burn. Cool slightly and add this just before adding the flour mixing well.
Change out the chocolate chips with chopped nuts.