Broccoli Rice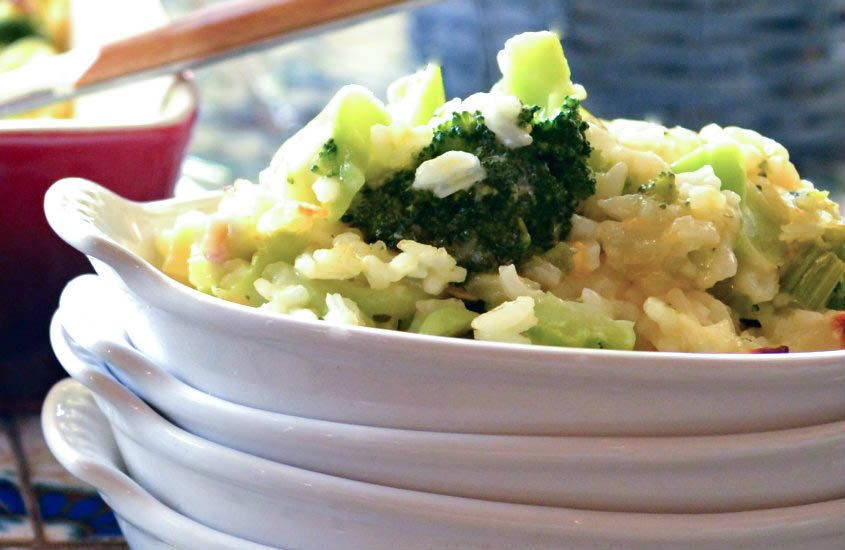 An old time recipe reinvented. Both recipes are here for you to enjoy. The original looks to be a tweaked Campbell's Soup recipe, my Mother's recipe. The second is revised for the family vegetarians, my recipe. For a carnivorous main dish add a little cooked chicken. Okay, this is not a dish that will knock off socks but it is a vegetable dish you'll enjoy.
Recipe #1
Preheat oven to 375 degrees F
Butter or oil an oblong baking dish
2 Tablespoons butter
1/2 Cup diced onion
1/2 Cup diced celery
1 Cup uncooked long grain white rice
16 Ounces of frozen chopped broccoli
1 Can cream of chicken soup-not reconstituted
1 Can cream of mushroom soup-not reconstituted
4 Ounces of jar processed cheese
Cook rice according to the package directions. Set aside.
Cook broccoli until just al dente. Drain and set aside.
In a skillet add the butter over medium heat along with the onion and celery. Sauté until tender.
Mix together the soups, cheese, rice, celery, onion. Add broccoli.
Pour into the oblong baking dish and place into your preheated oven for 30minutes or until bubbly.
You'll notice there is no salt or pepper in this recipe. Add as your discretion.
Recipe #2
Preheat oven to 375 degree F
Butter or oil an oblong dish
2 Tablespoons of butter or olive oil
3 Ribs of celery-sliced thin
1 medium onion-diced
2 10 ounce packages of frozen chopped broccoli
1 Cup uncooked brown rice
1 Can cream of mushroom or celery soup-not reconstituted
10 Ounces of vegetable broth (chicken broth if not going vegetarian)
8 Ounces of cheddar cheese-shredded
Salt and freshly ground pepper
Cook the rice according to package directions. You can also cook the rice in broth if you desire. Taste for need of salt. This recipe has less salty ingredients and may lack salt if not added. Set aside.
Cook the broccoli until al dente. Drain. Be sure to add salt to taste. Set aside.
Sauté the onion and celery in the oil or butter until tender. Add a clove or two of minced garlic if you like at the end of sauté.
Add all ingredients as with the first recipe. Add ground pepper to taste.
Pour into prepared oblong baking dish and bake.