Candied Pecans and Candied Yams
Eat together or Separately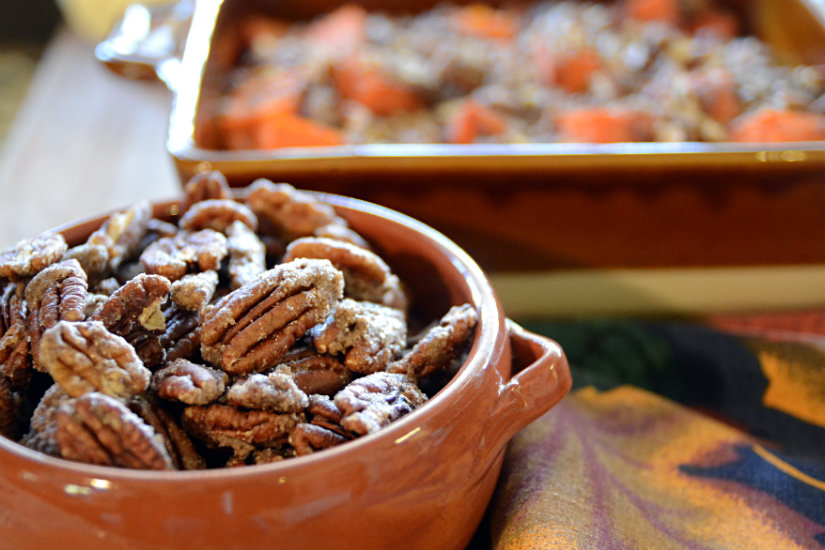 Candied Pecans are a great addition to recipes. Or eaten alone. Make this pecan recipe no more than a week ahead for optimum freshness and store nuts at room temperature. I've used these nuts in my candied yams for an added touch. And these would have worked well in my Apple and Cranberry Chutney. My favorite 'though is eating a mixed greens salad with feta and candied pecans with a balsamic vinaigrette … And toss in a few dried cranberries.
Candied Yams are included here too. No surprises in the recipe except the potatoes are baked the day before and candied the following day. Why this two step process? My oven will be stuffed during the holidays and this reduces the baking time on the day of. Of course it all can be done in the same day.
Both of these recipes are easy and delicious.
Recipe
Candied Pecans
Preheat oven to 225 degrees F
Makes 2 Cups Candied Pecans
2 Cups pecan halves
1 Egg white
1 Teaspoon vanilla
1/3 Cup sugar
1 Teaspoon cinnamon
1/4 Teaspoon all spice
1/4 Teaspoon salt
Beat the egg white until frothy.
Add the spices, sugar, vanilla to the egg white and mix well.
Add the nuts and salt and mix.
Pour a single layer onto parchment paper covered (or non-stick without use of parchment) cookie sheet with edges.
Place into preheated oven and bake for one hour stirring every 15 minutes. Cool and it's ready.
Candied Yams
Preheat oven to 350 degrees F
8-9 inch square baking dish
Serves 6
2 Large or about 3 pounds yams
1/3 Cup packed brown sugar
5-6 Tablespoons butter
3 Tablespoons flour
1/2 Teaspoon cinnamon
1/2 Teaspoon pumpkin pie spice
Pinch of salt
1/2 Cup candied pecan-roughly chopped then measured
Bake the yams in pierced skins on oven rack at 350 degrees (protect your oven) until done about 50 minutes. Cool. Then refrigerate overnight or begin next step.
In a mixing bowl add the brown sugar, flour, spices and salt. Mix.
Cut 4 tablespoons butter into mixture.
Peel yams and cut into one inch cubes. Place into buttered baking dish. Dot with 2 tablespoon butter. Sprinkle with mixture. Top with pecans.
Bake for 30 minutes at 350 degrees.