Caramel Cake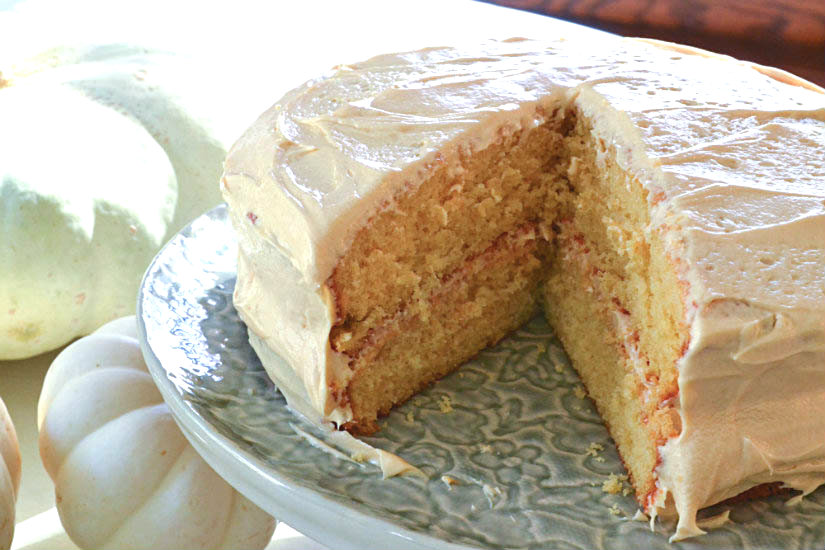 An oldie with a mild caramel flavor. This 50's Betty Crocker recipe has been revised just a bit. The natural flavor is wonderful. While not a special occasion cake exactly it's great for a weekend dinner. The icing is creamy and the secret here is to beat until it reaches the correct consistency. This pretty much requires an electric mixer for best results.
When you're not into chocolate and want something with a little flavor beyond a yellow cake this is the recipe for you.
Recipe
Preheat oven to 350 degrees F.
Prepare two 8 inch round cake pans, lightly greased and floured. Recommend parchment paper placed in the bottom-be sure to grease underneath and on top of the paper.
1 Cup sugar
1/2 Cup boiling water
In a heavy bottom sauce pan melt the 1 cup of sugar over low/medium heat. Do this too quickly and the result will be bitter. You may need to turn heat down during the process. After all the sugar is melted slowly add the boiling water, stirring as you go. Careful, as this will splatter a bit. Turn heat to low-low if you haven't already. Continue to heat for a minute or two until all lumps are melted and the liquid has reduced slightly. Remove from heat and let cool.
1/2 Cup shortening
1 1/2 Cup sugar
3 Eggs-room temperature
2 1/3 Cups all purpose flour
2 1/2 Teaspoons baking powder
1 Teaspoon salt
1/3 Cup reserved caramel liquid (set aside the remainder for icing)
2/3 Cup milk (set at room temperature for a bit)
Beat shortening and sugar until sugar is well incorporate.
Add one egg at a time to shortening/sugar mix. Beat well after each.
Measure and whisk together dry ingredients.
Add dry ingredients to shortening/sugar/egg mixture alternating with the wet ingredients. Only mix until incorporated.
Pour into prepared pans. Bake 30-35 minutes. Baking times may vary. Test with a toothpick in the center. Should come out clean. Avoid over-baking.
Remove from oven and after 10 minutes remove from cake pans to cooling racks. Cool totally before icing.
Icing
1/2 Cup butter-room temperature
1/3-1/2 Cup reserved caramel liquid (if not quite enough add cream to make up the difference)
3 Cups powdered sugar
1/2 Teaspoon salt or 1/4 teaspoon if using salted butter
1 Teaspoon vanilla
Add ingredients and beat with electric mixer for best results. Beat until spreading consistency.