Chai Cake with Pecan Topping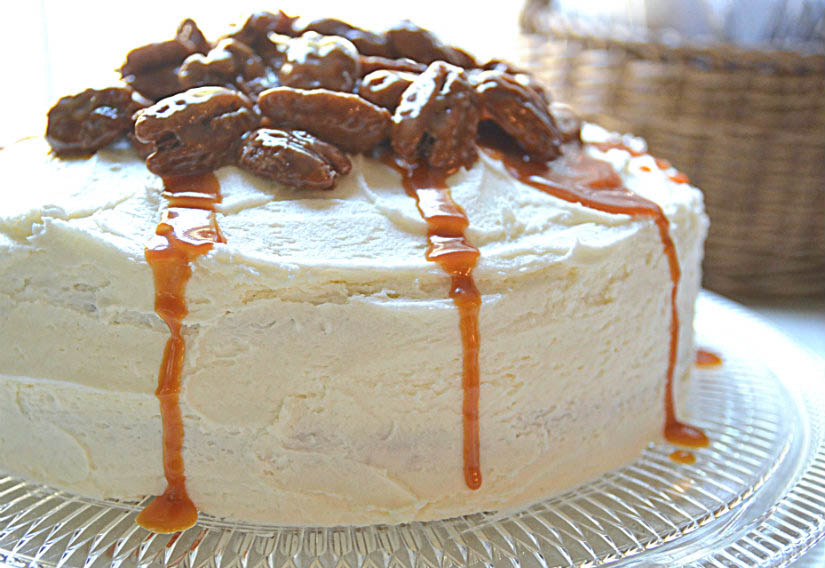 White cake to Chai! And because I wasn't satisfied with the height, after all, this was  for someone's special birthday, spiced nuts in caramel sauce were added. It was an absolute hit!
Friends and Family Blending Palettes! A little wine and fine (fun) painting … this cake, a platter of Italian meats and more … It was a perfect evening.
Chai Cake, Chai Candied Pecans, Caramel Sauce and Buttercream … all here!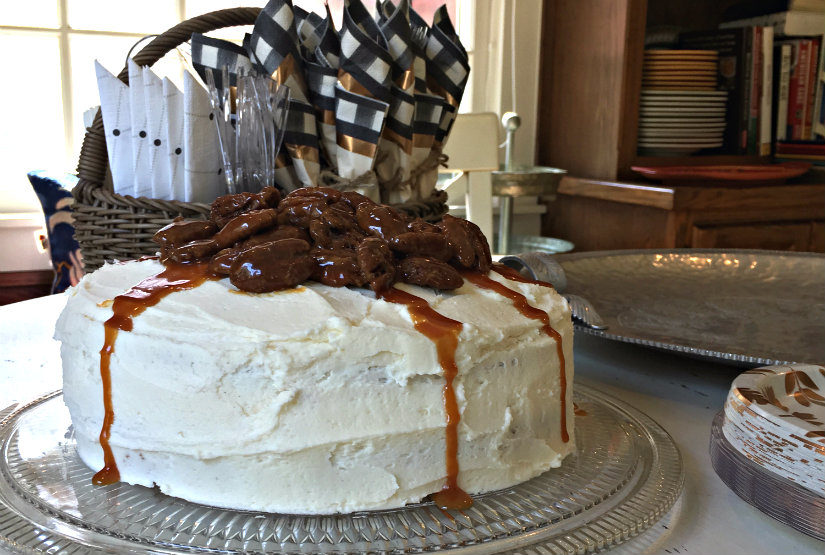 Recipe
Preheat oven to 350 degrees F.
Butter and flour two 8 inch cake pans. 8 inch is recommended to increase cake height. Also, I suggest using waxed paper or parchment paper cut the size of the cake pan bottom. Be sure to butter & flour under and over the paper. After baking for about 35-40 minutes or until a toothpick into the center comes out clean let cool about 10-15 minutes before removing from pans. The cake comes out easily after running a knife around the edge of the pan. Turn the cake pan over carefully onto a cooling rack.
1 Cup milk
1 Individual tea bag (black tea or a chai tea)
3 Cups cake flour
1 Tablespoon baking powder
1/2 Teaspoon salt
3/4 Teaspoon cream of tartar
2 to 2 1/2 Teaspoons Chai spice (King Arthur's premixed or check out here. Or do it yourself.)
8 Egg Whites-room temperature
1 Cup butter-room temperature
1 1/2 Cups sugar
1 1/2 Teaspoon best vanilla
Warm milk to just below boiling and add tea bag. Remove tea bag as milk cools. Milk must be room temperature before adding to ingredients. Set aside.
Whisk the next five (dry) ingredients. Set aside.
Beat the egg whites to stiff peak but not dry. Use a clean bowl and beaters for this to get the best results. Set aside the beaten egg whites.
Next cream the butter until fluffy. Add sugar and vanilla. Beat until sugar dissolves, about 3-4 minutes.
Add the flour/dry ingredients a little at a time as well as the cooled milk to the butter mixture. Mix only until incorporated.
Fold into the batter the whipped egg whites. Cut through ingredients and fold until all is just mixed. The idea is to give 'lift' with the air in the egg whites.
Pour into prepared cake pans and bake 35-40 minutes. Avoid over baking.
Cool completely before frosting.
Quick Simple Fluffy Buttercream
5 cups powdered sugar
1 1/2 Cups butter-room temperature
1 1/2 Teaspoons best vanilla
2-3 Tablespoons heavy whipping cream (more or less as needed to produce spreadable frosting)
Beat the first 3 ingredients until well mixed. If using unsalted butter add salt to taste. (Each 1/2 cup salted butter contains about 1/4 teaspoon salt)
Add the whipping cream a little at a time until frosting is fluffy and spreadable.
Chai Candied Pecans
Use my Candied Nuts Recipe and switch out cinnamon & all spice with an equal amount of Chai Spice.
Caramel Sauce
Follow my recipe here.
Putting the toppings together:
Frost the cake layers. Set aside to firm. No need to cover. The frosting will seal in freshness.
Candy the pecans and cool completely. Set aside.
Cook the caramel sauce. For this recipe reduce just a bit more to produce a thicker sauce. When done let cool to near room temperature.
The final pecan caramel topping can be done two ways. 1. Arrange the candied pecans over the top of the cake as desired and drizzle the caramel sauce over all. Or 2. Mix lightly 1 generous cup of candied pecans into 1/2-2/3 cup of caramel sauce. Then simply pile on cake.