Chicken and Pineapple Stir Fry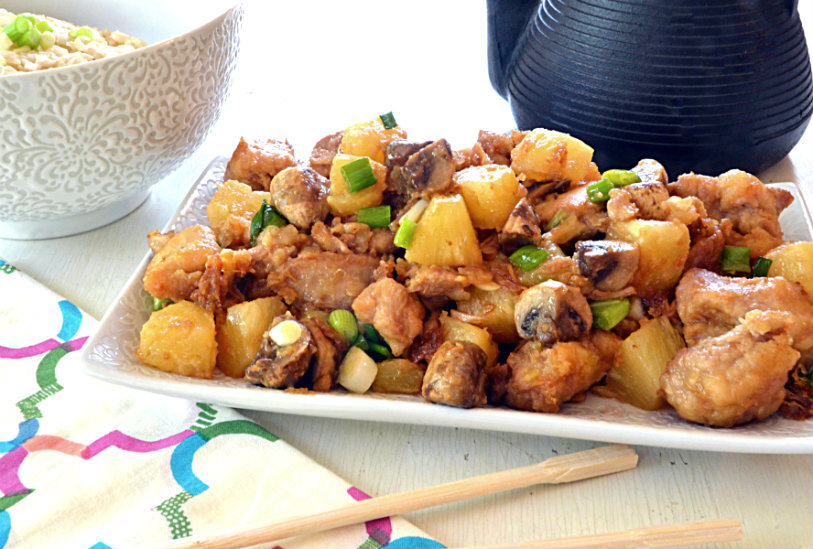 Still into Pineapple! Here is a very simple stir fry with a 15 minute prep. That side of rice may take longer … Especially if you're using brown rice. Enjoy this quick chicken recipe in no time. It's so delicious and so easy!
Recipe
Serves 2
18 Ounce can of pineapple chunks-drained
3 Skinless and boneless chicken thighs-cut into 1 inch pieces and dredged in the cornstarch
Tablespoon or two of cornstarch ( I used more)
3 Tablespoons of cooking oil-high heat variety
8 Ounces mushrooms-cleaned and quartered
2 Tablespoons soy sauce
1/4 Teaspoon garlic powder
2 Garlic cloves-sliced thin
1/8 Teaspoon ground ginger or 1 1/2 inch of freshly grated ginger (2 teaspoons)
2-4 Green onions-sliced
Do all the prep first … have everything cut or measured and ready to go. If you haven't started your side of rice begin this first. Follow package directions for cooking your rice.
A wok is preferred but this can be done in a skillet too. Heat the oil over high heat. Add the chicken and stir fry a minute or two adding the chicken a little at a time. If the oil is splatting turn your heat down just a bit but not too much. The chicken should have a golden brown coating.
Add the mushrooms, soy sauce, garlic (powder and fresh) and the ginger. Stir. Turn the heat down to medium and continue cooking for about five minutes or until the chicken is done.
Add the drained pineapple and heat through. About one minute.
Add the sliced onion and serve over warm rice.