Chicken Cordon Bleu, Broccoli & Mornay Sauce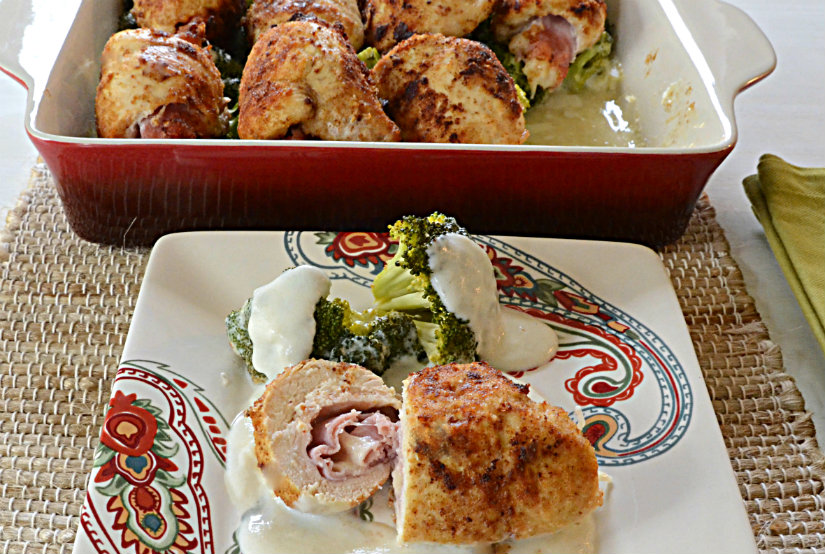 Chicken Cordon Bleu on a bed of Mornay Sauce drizzled Broccoli. The prep time of this one dish meal and baking time are each about 30 minutes. The perfect dinner for family and friends. Serve with a side of rice or not. Enjoy!
Recipe
Preheat oven to 350 degrees F
Serves 8
Broccoli
1 and 1/2 Pounds broccoli florets-with stems removed, rinsed and drained well
Place in a single layer in a buttered baking dish. And drizzle with one cup of the Mornay Sauce.
Mornay Sauce
2 Tablespoons butter
3 Tablespoons all purpose flour
2 Cups whole milk
2-3 Ounces of grated Gruyere Cheese or Swiss
1/4 Teaspoon white pepper (or to taste)
1/4 Teaspoon salt (or to taste)
In a saucepan over medium heat melt the butter. Add the flour and stir until bubbling. Slowly add the milk while stirring. Heat until simmers and begins to thicken. When the sauce coats a spoon easily remove the pan from heat and add the cheese, salt and pepper. As it cools slightly the sauce will thicken. Taste for more salt and pepper need. Save one cup of the sauce for serving on the side.
Chicken
8 Thinly sliced chicken breast halves-no more than 1/2 half inch thick (pound between parchment paper if the pieces are too thick and hard to roll up)
8 Thinly sliced cooked ham on the bone slices from your best deli
8 Thinly sliced best swiss cheese
1 Cup fine bread crumbs-unseasoned
1/4 Teaspoon white pepper (or to taste)
1/4 Teaspoon salt (or to taste)
8 Toothpicks
2-4 Tablespoons olive oil
Layer on each chicken breast piece a slice of ham and then cheese. Roll the breast piece from small end toward larger top end. Use a toothpick to hold the roll in place.
Dredge each roll in the fine crumbs. Shake gently to remove excess.
Heat the olive oil over medium heat in a large skillet. Place a few rolls at a time to avoid cooling down the skillet. Brown the exterior of each roll. Salt and pepper as you go. Remove and drain. The chicken is still not fully cooked. Remove the toothpicks gently. The rolls should maintain their shape.
Place the rolls of chicken on top of the sauce drizzled broccoli. Bake in the oven for 30 minutes uncovered.
Remove after baking and let set for about 10 minutes. When serving add a small amount of warm sauce to each dinner plate and place the roll on top. Serve extra sauce on the side.
Delish!