Chicken, Peas and Pasta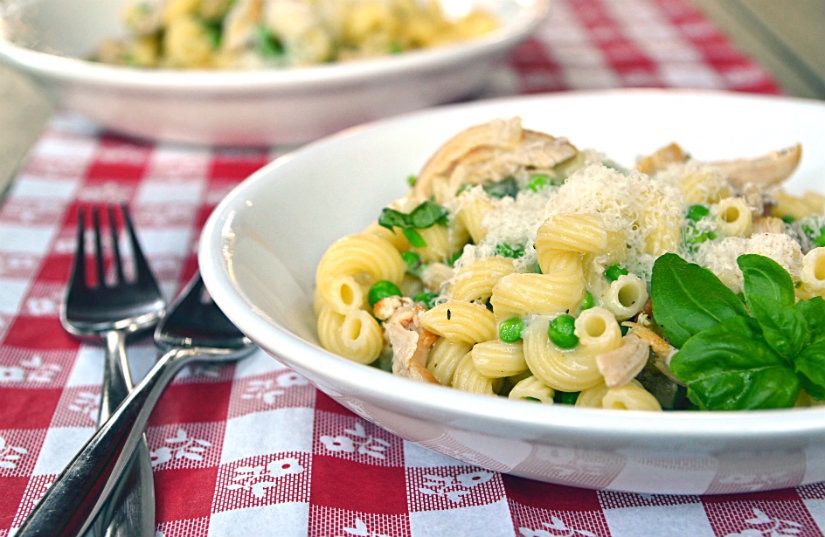 When family visits you put together their favorite foods. Then you find peas are no longer a favorite. Oops! After this, peas are back on the menu. It says a lot about this recipe!
Recipe
Makes 4 adult servings
3 Skinless and boneless chicken breasts (usually half breasts in a package) or 3 skinless and boneless thighs or combination
3/4 Pound cavatappi pasta-cooked al dente in 1 T salt per package directions (reserve 1/2 cup pasta water if using)
3 Tablespoons olive oil (1/2 T additionally if needed)
1 Tablespoon butter
2-3 Cloves of garlic-minced
1/2 Teaspoon dried oregano
1/2 Green or Red bell pepper-diced
1/2 Cup chicken broth or 1/4 cup each of broth and white wine (or 1/2 cup pasta water in a real pinch)
1/2 Pound frozen peas-more if your family is into it
1/2 Cup grated Mozzarella Cheese
1/3 Cup grated Parmesan Cheese-more served individually
1/4 Cup cream or half and half if desired
1/3 Cup torn basil leaves
Salt and Pepper to taste
Heat oil and butter over medium heat in a skillet large enough to hold all ingredients.
Add the 2 cloves of garlic for 1-2 minutes. Careful not to scorch. Leave garlic in the skillet if you can avoid burning it while completing the next step. Otherwise remove it.
Add the chicken and cook until done through, 20-30 minutes depending on thickness.Breast meat typically cooks faster. Brown both sides of the chicken and salt and pepper as you go.
Remove the chicken and allow to cool slightly then shred or cube. Set aside. No need to wash the skillet yet.
In a separate pot cook pasta. Drain and set aside.
Add the remaining 1/2 tablespoon of olive oil to the skillet (with the chicken drippings) and add the 3rd clove of garlic and bell pepper. Sauté several minutes and scrape the drippings as you go.
Add the shredded chicken, peas (no need to defrost), pasta, dried oregano and broth. Heat through, just a minute or two.
Add cream and cheeses. Taste for need of salt and pepper. Heat through.
Fold in basil. Or simply garnish with the basil.