Sunday Italian with Chicken Saltimbocca
Passion may come and go but mine for cooking in particular Portuguese and Italian dishes is constant. Saltimbocca on Kitchen Getaway!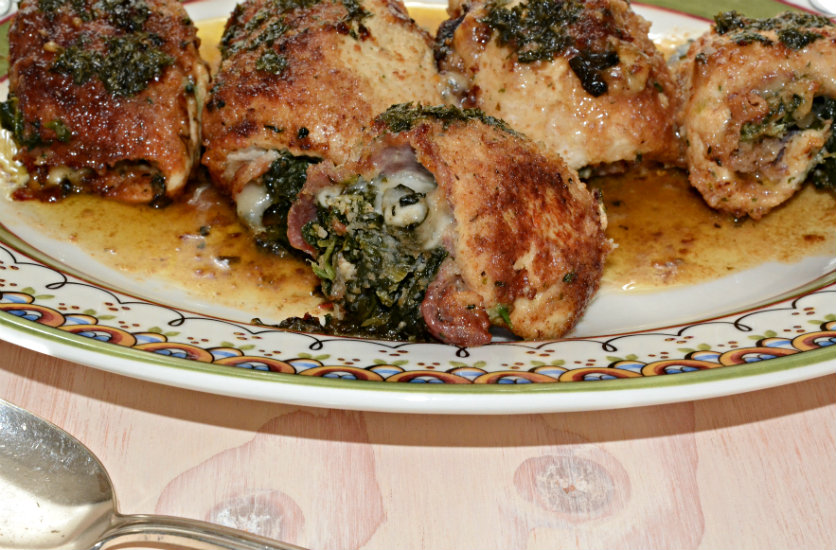 A recipe that's both easy and impressive. So rich tasting!
When computer housekeeping today I managed to delete my how to photos for this dish. Yikes! I am hopeful the recipe steps will be concise for you.
Recipe
Serves 4 Adults
4 Boneless and skinless, thinly sliced chicken breasts halves (2 full chicken breasts)
3-4 Ounces of proscuitto (4 thin slices)
4 Slices provolone (or mozzarella)
1 Cup frozen spinach-defrosted and squeezed dry
2 Tablespoons butter
2 Tablespoons olive oil
1/2-2/3 Cup fine plain bread crumbs
1 Cup dry sherry
Toothpicks
Dry chicken breasts.
Place the breast flat on a clean dry surface. If you need to flatten the breasts … put the breast between two pieces of waxed paper or parchment paper and roll over with pressure with a rolling pin. Repeat if necessary.
Layer the following on the each chicken breast piece, one slice proscuitto, one slice cheese and 1/4 cup of spinach.
Roll the smaller end of each breast piece toward the larger and toothpick to hold into place.
Using a lidded skillet large enough for the breasts heat the butter and oil over medium heat until hot.
Brown the chicken rolls until golden brown.
Add the sherry and simmer for about 30 minutes with the skillet partially covered.
For a complete dinner add a bed of al dente tagliatelle covered with sautéed zucchini. Here is a quick zucchini side dish recipe.
Recipe
Serves 4
3 Medium zucchini-cleaned and sliced thin
1 Yellow onion-sliced in half and then lengthwise to create short fingerlike pieces
1 Large clove of garlic-minced
2 Tablespoons olive oil
Salt and Italian seasoning if desired
Grated Parmesan to sprinkle over zucchini when served
Sauté onion in the olive oil over medium heat. Use a skillet large enough for zucchini to be a single layer or almost so. After sautéing onion for several minutes add the garlic and sauté another minute. Add zucchini in a single layer, or mostly so, pushing some of the onion and garlic aside. The zucchini will turn slightly brown as it cooks. Avoid flipping over the zucchini until the bottom has some color. Turn the zucchini and allow to become golden on the other side. Done! Sprinkle with Parmesan.
Enjoy like I did!