Chicken Sausage Ragu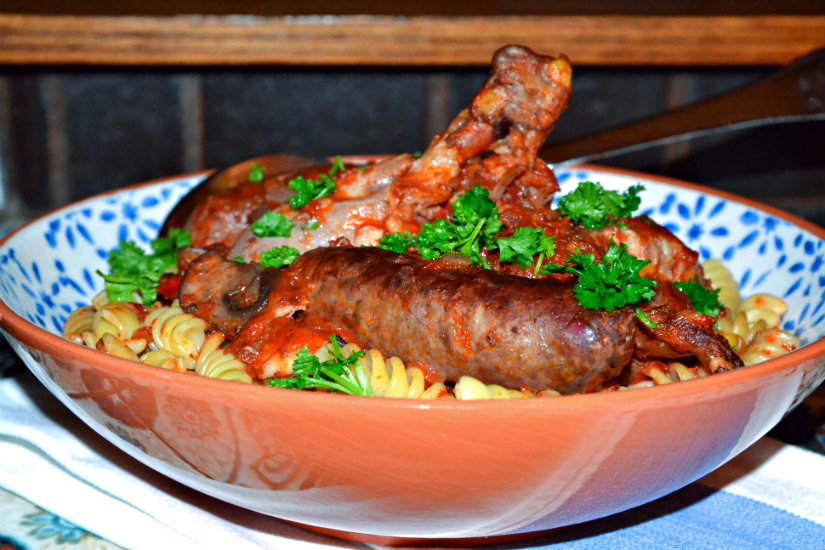 Hearty! Oh so delicious! Yep, this would even please the guys on Super Bowl Sunday! Chicken and Italian sausage are the stars of this dish … It's all about the meat. You can try it with boneless skinless chicken if you like but you'll be missing the depth of flavor. This stew is amazingly simple and just the ticket for the game.
Recipe
4-5 Tablespoons of olive oil
1 Fryer chicken-cut into pieces, cut off excess fat
Lemon pepper
1 Pound Italian sausage
I Yellow onion-chopped
1 Head of garlic-peel each clove and smash slightly
8 Ounces sliced baby bell mushrooms
28 Ounces of chopped plum tomatoes or combination of chopped and puree
1 Cup red wine
1 Small jar of roasted red peppers-drained & sliced into strips
3-4 Whole star anise
2 Large bay leaves
1 1/2 Teaspoons dried oregano
1/4 Cup chopped fresh parsley and more for garnish
Salt to taste
1 Pound rotini cooked al dente in highly salted water-drained
Pepper the chicken pieces generously and set aside.
Heat 1 tablespoon of olive oil to a large dutch oven over medium heat and add the onion to sauté until translucent. Add the garlic and continue the sauté for an additional minute or two.
Remove the onion and garlic from dutch oven leaving the oil and set aside. Add more oil if necessary and sauté the sliced mushrooms. Remove mushrooms to the onion and garlic when slightly browned.
Add the remaining tablespoons of oil to the dutch oven and increase the heat to medium-high heat. Add the peppered chicken to the oil and brown. Salt the chicken as you go. This is not going to be a complete cooking of the chicken … just getting the skin browned.
In a separate skillet cook the sausage over medium heat either in one link or cut into 1 inch pieces. Cook just long enough to render off some of the fat. Drain and add sausage to the browned chicken along with the mushrooms, onion and garlic in the dutch oven. Reduce heat to medium low.
Add the tomatoes, wine, red pepper strips, spices and simmer covered for one hour. Remove bay leaves and star anise before serving.
Serve over pasta.