Easy Chicken Tetrazzini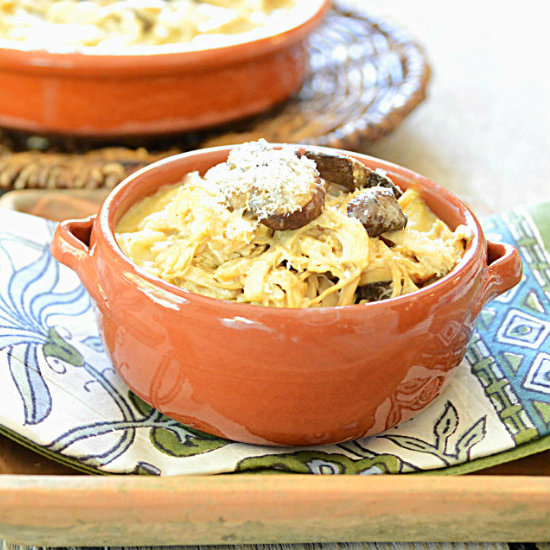 The only thing we know for sure is this dish, further, any Tetrazzini dish, is named after Luisa Tetrazzini, an Italian opera star popular in the late 1800's and early 1900's. What seems to be in question is what hotel chef put this together for her and gave it her name. This is my own version of the dish. And it's simmering.
Baking this a few minutes after the initial cooking gives a truly different twist to this pasta dish.
Recipe
Bake in a preheated oven for 15-20 minutes or much less for individual dishes. it is all precooked. This process is to just heat thru and thicken the sauce.
2 Pounds chicken breast or thighs or combination, boneless and skinless for easy prep. You can also use 2-3 pound whole chicken but more prep is involved.
4 Tablespoons butter-divided
1 Tablespoon olive oil
1 Cup dry white wine-quality you would sip
2 Cups of water
1 Large rib celery-diced
2 Carrots-sliced
1 Yellow onion chopped
Pinch Italian spices
Big Pinch of thyme
1 Teaspoon salt
2 Tablespoons chopped parsley
4 Tablespoons flour
1/2 Cup half and half or light cream
1 cup grated parmesan
8 Ounces white or crimini mushrooms-sliced
8 Ounces vermicelli-cooked in salted water until al dente
Sauté the onion, carrots and celery in 2 T butter and the olive olive until all are turning to a bit of brown.
Add chicken and just cook for a few minutes on both sides. If using a whole chicken skip this step.
Add the water, except for about 1/2 cup, along with the wine, spices, salt and parsley. Simmer until chicken is tender and done. This will take longer for a whole chicken. The breasts will cook very quickly, 10-12 minutes maximum. You will be cooking longer in the sauce and oven. So, careful not to over cook.
If you used skin and bone-in chicken remove the skin and bone when you can handle the chicken without burning.
Tear the chicken into small bite-size pieces. Set aside.
Strain the broth and remove the vegetables. If you are really into these veggies you can add them back later.
Stir the flour into the 1/2 cup water until smooth. Add a bit more water if pasty thick. Bring the broth to a simmer. Stir in the flour mixture stirring constantly. Allow the broth to thicken.
Sauté the mushrooms in the remainder of the butter until slightly brown. Set aside.
Add the chicken, half the cheese, the cream and the mushrooms to the thicken broth.
Place the pasta into an oven safe baking dish.
Pour the sauce over the top of the pasta. Sprinkle with the remaining cheese and bake!