Five Minute Mix Chocolate Brownie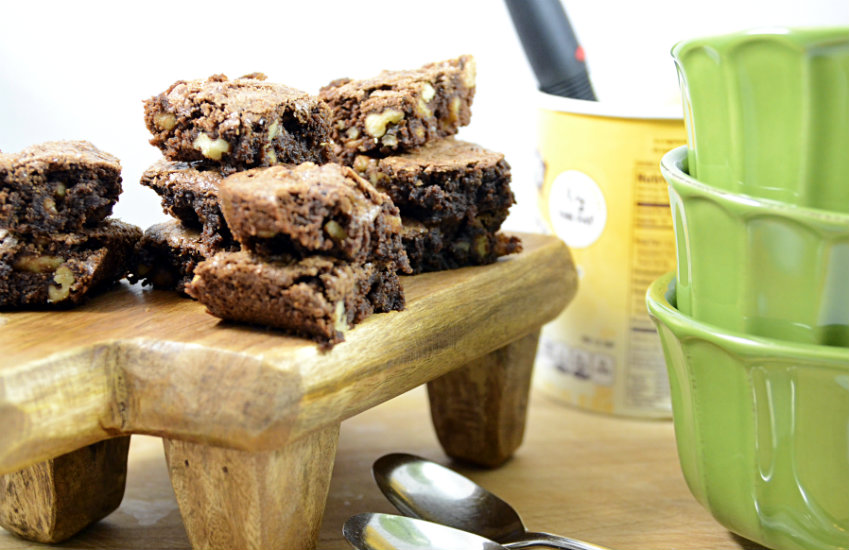 This is my go to recipe for a quick homemade chocolate dessert. Rich Moist Chocolate Brownies! It's so quick and easy. And you probably have everything in your pantry to whip it together.
There may be a box mix for brownies out there that I might like but I haven't tasted it yet! This is so much cheaper and just as fast! And you can tell it's homemade!
Once baked add ice cream, creme fraiche, or whipping cream. Or go it naked!
This is a dessert that will please your family or guests. The edges are chewy, my favorite piece, the center is moist and the crust is thin and slightly crunchy. I love nuts! But it can go without and still impress!
Recipe
16 2 inch bars
Use a 8 inch square baking dish-greased and floured
Preheat over to 325 degrees F
1/3 Cup all purpose flour or cake flour-no allowances for difference needed
1/2 Teaspoon salt
4 Tablespoons unsweetened cocoa
1/2 Cup butter-room temp or not
2 Eggs-room temp or not
1 Cup sugar
1 Teaspoon vanilla
1/2 Cup walnuts or pecans (or your favorite)-broken slightly
This can all be beaten by hand. You will need a large mixing bowl.
What will take the longest is measuring. The mixing is very quick. Measure the flour and salt and set aside.
If your butter is right from the refrigerator soften slightly by microwaving. Microwave only 3-4 seconds at a time. Melting the butter is not the goal … only to soften. But let's say you've partially melted the butter … no worry. Just move forward using it as it is.
Now in the mixing bowl put the butter and sugar and whip by hand until just mixed. Add eggs and do the same. Make sure the butter is not hot or you might get scrambled eggs. In all these years I've not seem this happen! Add cocoa and vanilla, mix. Add flour/salt and mix until blended only. Lastly add the nuts and fold. There you go!
Pour into you baking dish and bake for 45-55 minutes, until a toothpick stuck into the center comes out clean.
Let cool for 15-20 minutes before cutting. The longer you wait the better … for easier slicing. These will be very moist in the center when removed from the oven and become perfectly moist when cooled.
Enjoy!