Mother's Day Chocolate
Chocolate Chocolate Chips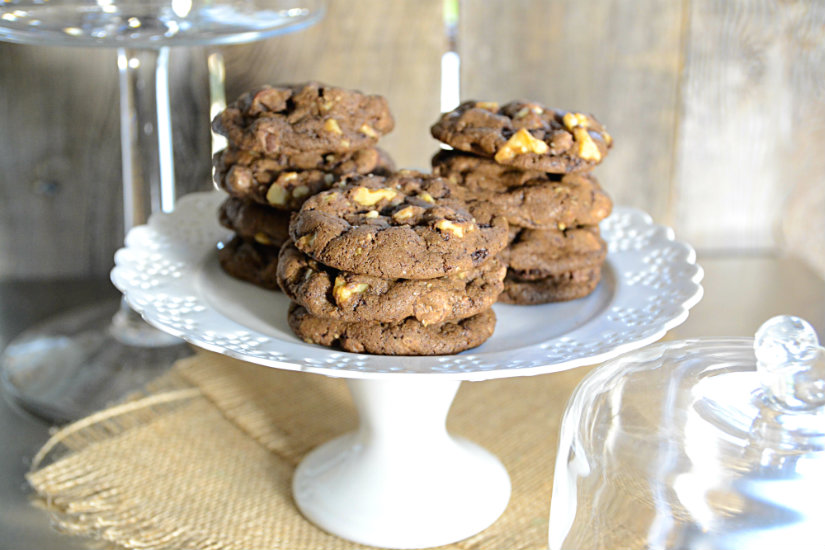 For the Mother's Day chocolate fix. I've had a big fix with Edible Arrangement goodies (Thank you, Stephen) but a little more chocolate never hurts. Here's a perfectly easy Chocolate Chocolate Chip Cookie recipe that will please anyone who is a chocoholic.
Enjoy and Happy Mother's Day!
Recipe
Preheat oven to 325 degrees F.
Prepare a cookie sheet. I like to use a pre-coated. I love my William Sonoma Gold cookie sheet.
Makes 2 dozen 2 inch cookies.
1/4 Cup butter
2 Ounces best unsweetened chocolate
1 Egg
1 Cup sugar
1 Teaspoon vanilla
1/2 Teaspoon baking soda
1/2 Teaspoon salt-scant
1 Cup flour
3/4 Cup chocolate chips
3/4 Cup chopped walnuts
Microwave the chocolate in 30 second intervals until melted through. Go slowly to avoid scorch.
Measure the dry ingredients and whisk together. Set aside.
Beat butter and sugar until fluffy. Medium to high speed works.
Add slightly cooled chocolate and beat well. Add the egg and continue until all is mixed well.
Add vanilla and mix, then slowly add the dry ingredients while mixing on low-medium.
Beat in nuts if you like or fold with chocolate chips.
Form 1 inch balls and place 2 or more inches apart on the cookie sheet.
Bake 15 minutes or until the tops begin to crack slightly.
These need to cool slightly before removing from the sheet.
ENJOY! My Chocolate Chocolate Chip Cookies