Cranberry Shortbread Cookies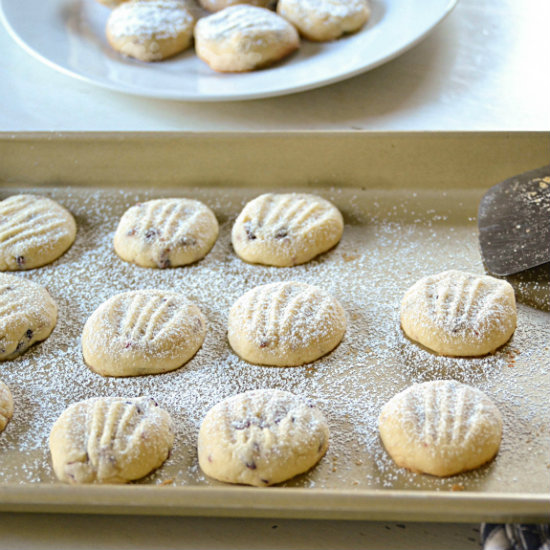 New version of the shortbread cookie. Cranberry fits, doesn't it! What I like best about these cookies besides the deliciously buttery shortbread taste … they keep fresh longer, longer than many cookies … about 5 days. Not that they'll last that long! But it's a cookie you can make ahead. Like I have made here for my Thanksgiving crowd. Yes, we'll have pies! But the days leading up to Thanksgiving we have to have dessert on those days too!
Recipe
Preheat oven to 325 degrees F.
Use a nonstick cookie sheet or cover your cookie sheet with parchment paper.
1 Cup salted butter-room temperature
3/4 Cup powdered sugar
1 Teaspoon vanilla
2 Cups all purpose flour
Pinch of salt
1/2 Cup chopped dried cranberries
Cream the butter.
Add the sugar and whip through the butter until well mixed.
Add vanilla and cream mixture.
Whisk the salt through the flour and then slowly add the flour to the butter mixture.
Fold in the cranberries.
Roll the dough into one inch balls and place onto the cookie sheet. Use a fork to gently press the dough slightly.
Bake for about 15 minutes or until a slightly golden color is seen around the bottom of the cookie.
Rest for about 2 minutes out of the oven then remove from cookie sheet. Sprinkle with additional powdered sugar.
ENJOY!