Dijon Potatoes with Green Beans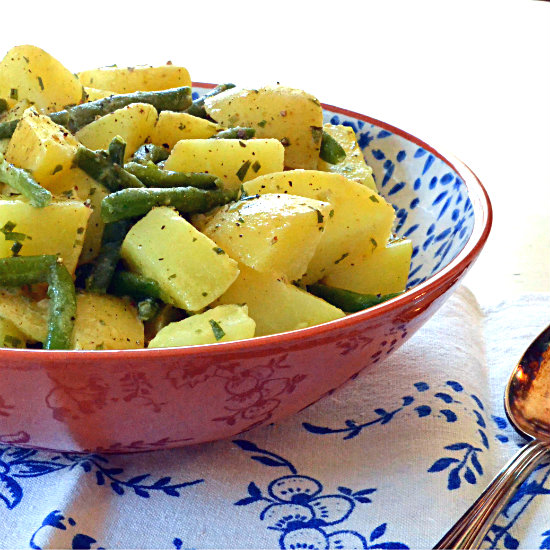 Tasty lighter potato salad to serve cold or warm. The flavor intensifies after refrigerating for a couple of hours. But you may be like me and enjoy this salad immediately after preparing. Either way I guarantee you won't be disappointed … That's if you are into Dijon and a little tart and tanginess. Love serving this with a sweeter meat dish. Yes, it was perfect with my Pumpkin Braised Short Ribs.
It's a great side! Hope you enjoy!
Recipe
2 Pounds red or white potatoes-skins on-scrubbed and cubed
2 Cups fresh or frozen green beans-trimmed
2 Tablespoons best olive oil
2 Tablespoons white wine vinegar
1 Heaping tablespoon of Dijon mustard
1 1/2 Tablespoons fresh tarragon or 1 1/2 teaspoon dried
1/4 Cup sliced green onions or 3 tablespoons minced shallots
1 Tablespoon capers
Salt and pepper to taste
Cube the potatoes (best if approximately 1″). Just cover with water. Bring to boil in a large sauce pan. Low boil in two teaspoons of salt for approximately 5-7 minutes. Potatoes should still be firm.
Add the green beans to the potatoes and continue to cook until potatoes and beans are al dente, about 5 minutes. Drain. Place into a mixing bowl to stop further cooking.
Mix the next 5 ingredients and pour over the warm potatoes and green beans. Mix carefully to avoid breaking up the potatoes.
Add capers and taste for salt and pepper need.
Refrigerate for 2 hours or serve immediately.