Easy Tenderloin Roast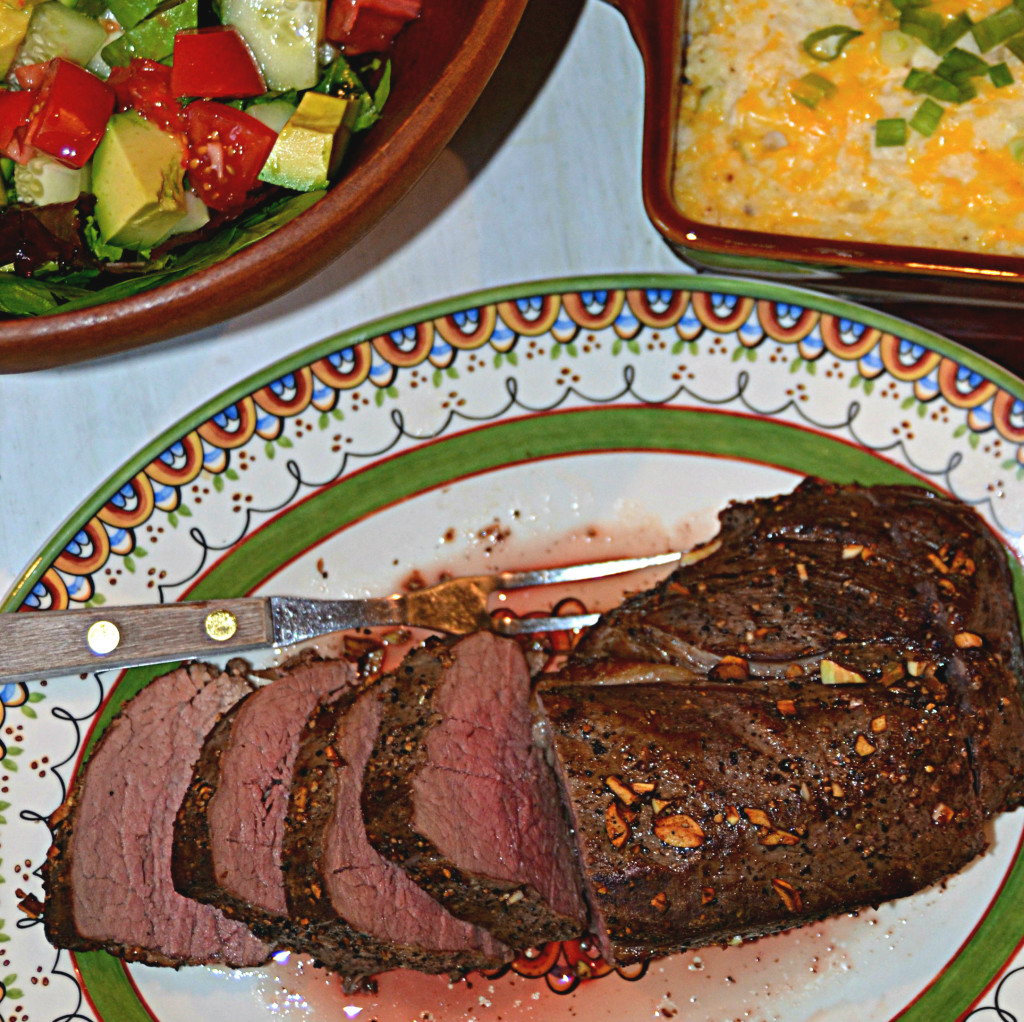 But did I say pricey! Save this for a special occasion because a tenderloin roast can cost. This one was $22 a pound and weighed just a little over 3 pounds. Enough to serve 6 generously. A delicious cut of meat you don't want to ruin. So, if your guests are into medium well or well cooked meat you may want to skip this.
This was served with a blue cheese and mushroom sauce. So delicious.
A salad and potato dish complete the meal. Yes, the slices are a bit thin … about 1 inch. Can you imagine this roast is for 6? 3 pounds! We might be carnivores … This was even too much beef per serving for us. Keep your guests' appetite size in mind when purchasing this cut. Leftovers are good but not ideal here.
Recipe
Marinade
1 1/2 cups soy sauce
3/4 Cup Worcestershire sauce
4 Cloves of garlic-minced
Coarsely ground pepper
Mix all ingredients but the pepper and half the minced garlic and place into a small baking dish or plastic bag if you prefer.
Generously pepper the meat on all sides and press all sides with the other half of the minced garlic to help the pepper and garlic adhere to the meat.
Place into the dish or bag with the marinade and cover or seal to enclose the flavors. Set out at room temperature for 2 hours. If the marinade is not covering the meat entirely flip the meat over half way through the process.
Now preheat the oven to 500 degrees F.
Remove meat from the marinade and place in a high heat acceptable baking dish or shallow roasting pan. Reserve 1/2 cup of the marinade.
Add the reserved marinade to the baking dish with the meat. Add an additional cup of undiluted beef consommé. Place into the oven and turn the heat down to 350 degrees F immediately.
For medium rare allow 20 minutes per pound. About 18 for rare. For more concise roasting use a meat thermometer. Remember, the meat continues to cook when removed from the oven. Allow 10 minutes to rest before slicing.
130-135 internal temperature for rare. 140 for medium rare.
There you go!