Filipino Adobo Chicken Wings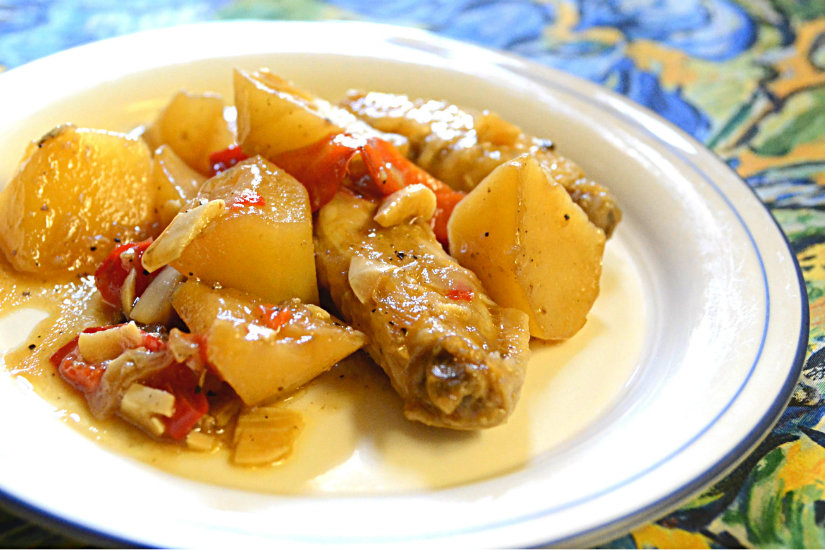 Here's another chicken recipe from my special friend. It may be an easy recipe but the flavors are many … And oh so delicious. Did you try her Tinolang Manok Recipe? Amazing!
Recipe
2 Pounds trimmed chicken wings
1 Tablespoon cooking oil
1/2 Onion-cut in half again and sliced thin diagonally
5 Cloves garlic-sliced
1 Red bell pepper-sliced
1 Tablespoon vinegar
1 Tablespoon sugar
1/4 Cup soy sauce or to taste
Chicken bouillon cube
1/2 Cup water-add a bit more as needed if cooks down
4 Small potatoes-peeled and cut bite size
Salt and ground pepper to taste
In a wok or wok-like skillet heat oil until hot over medium heat. Add onion and garlic for about 30 seconds then add chicken wings a few at a time. Cook five minutes.
Add the vinegar and sugar to the water and stir to dissolve sugar. Set aside.
Add the bell pepper to the chicken and cook additional minute.
Add the water and bouillon. You may need a bit more water. Add the potatoes and simmer until tender. About 15 minutes. Place a lid to help cook a little faster and keep water from evaporating if needed. Make sure it just simmers. In the last minutes add the soy sauce. Add salt and ground pepper as needed.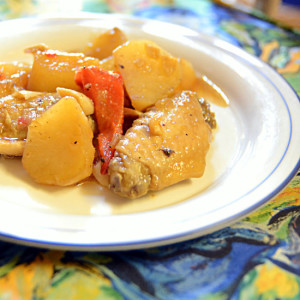 Thank you again my friend.