A Friendly recipe for the young chef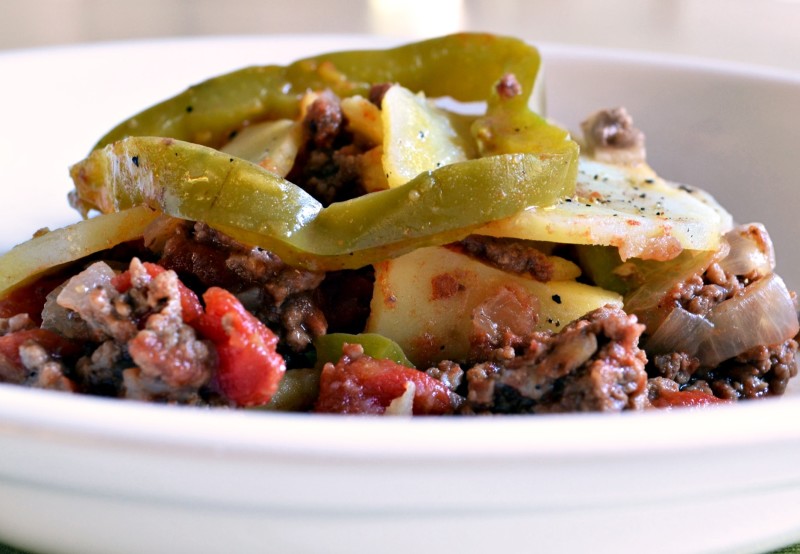 This recipe holds up after all these years. It's tasty, healthy, economical, and fast & easy. What is the origin of this Four Layer Dinner? See Reddy Kilowatt at the end of this recipe.
Recipe
This stove top recipe serves 6.
Use a Le Creuset 24 or a 5 quart capacity covered Pan.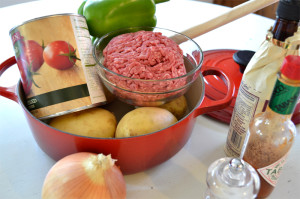 3 tablespoons of olive oil
1 medium onion, chopped
1 pound of lean hamburger
1 teaspoon salt, more for sprinkling
1/4 teaspoon pepper, more for sprinkling
2 teaspoons worcestershire sauce
1/2 teaspoon tabasco sauce or other hot sauce
1 teaspoon sugar Optional
28 ounce can of tomatoes, chopped
4 medium white potatoes or Yukon gold, thinly sliced
1 green bell pepper, sliced, or red for sweeter taste
Heat oil over medium heat and add chopped onion. Sauté onion until translucent. Remove onion.
Add hamburger and brown until no longer pink. Drain excess fat. Add back the onion.
Turn heat to low. Mix in with meat and onions: salt, pepper, worcestershire, and tabasco.
Add tomatoes over meat, no stirring necessary. Sprinkle sugar if desired.
Turn heat to medium to attain a simmer.
Layer potatoes over tomatoes and sprinkle lightly with salt and pepper each layer.
Smaller diameter pan equals more layers of potatoes and bell pepper.
Top with sliced bell pepper.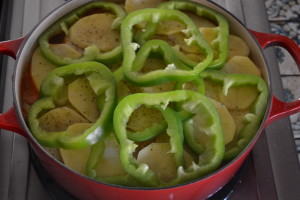 Cover and reduce heat to low. Cook 40 minutes or until potatoes are fork tender. No need to stir.
Heard of Reddy Kilowatt? This cartoonish character worked for the Edison Company in my hometown years ago. And actually taught Girl Scout Troupe 66 how to cook this recipe. Reddy was promoting the use of electricity for cooking. This worked for me. And I was only ten. Our appliances were gas but I wanted the clean electric cooking. Today, I wish for those gas appliances.
Here he is as I remember him.