Easy Garlic Roasted Chicken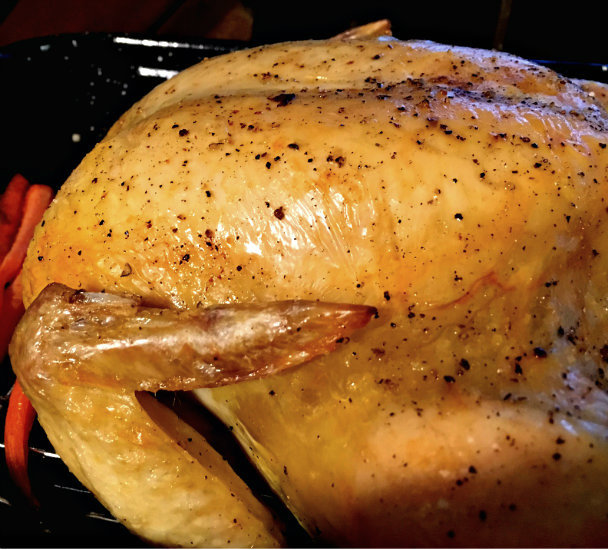 We're having chicken noodle soup tonight with these amazing leftovers.
Precooked garlic chicken at your grocer's can be expensive when you can make it easily yourself at half the price! I know, I know, sometimes the convenience is worth the store bought but just in case you can buy two large roasting hens for less than $10 like I did here you might give this a try.
Recipe
Preheat the oven to 450 degrees F
1 Roasting chicken (6 pounds is ideal for 6 servings)
Olive oil
Salt and Pepper
1 Head of garlic
Rinse the chicken inside and out and pat dry with paper towels.
Sprinkle with olive oil and rub over the entire chicken, inside and out.
Salt and Pepper the chicken, inside and out.
Peel and roughly chop 10 cloves of garlic and place inside the chicken.
Sprinkle the remaining unpeeled cloves around the chicken in the roasting pan.
Place into the preheated oven at 450 degrees for 20 minutes. Reduce heat to 350 degrees and continue roasting for 45 minutes or until the chicken juices are clear. Allow more time if your chicken is greater than 6 pounds.
Baste with the chicken juices every 15-20 minutes.
Remove from oven. Let the chicken rest for 10 minutes before slicing.