Girl Scout Cookie Crust
With Grasshopper Filling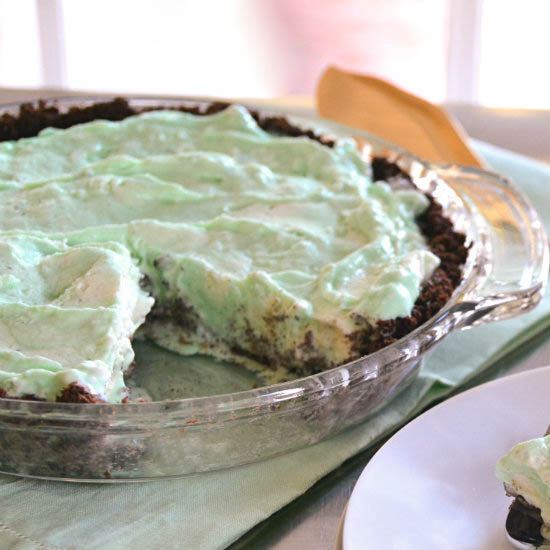 What do you do when you buy too many Girl Scout Cookies? You use the cookies for pie crusts. Yes, all varieties will work! The secret is to have a good blender capable of pulsing the cookies to a fine crumb. This pie is an adult recipe with, yes, crème de menthe. Just in time for St. Patrick's!
Mint cookies were used for this crust and it required approximately 3/4 box to acquire 1 1/2 cups of crumbs. The finer the crumb the more cookies used. The whole box can be used not to exceed 2 cups of fine crumbs. Will make one 8 or 9 inch pie crust. I recommend baking the crust prior filling. It just holds together better. Cool completely to room temperature before filling.
Recipe
Preheat oven to 375 degrees F.
1 1/2 to 2 Cups fine cookie crumbs
1/4 Cup sugar (optional)
5-6 Tablespoons butter-melted (I recommend unsalted but salted will work in a pinch.)
Mix together these ingredients and press firmly into a pie plate. Bake 12 minutes. Cool and fill.
Grasshopper filling:
Mix together 1/2 gallon vanilla ice cream (leave ice cream at room temperature for about 10 minutes or until just soft enough to mix–if your kitchen is warm this may require less time) with 1/4 cup crème de menthe. Marble the mixture or completely mix for a solid green look. Scoop into the pie shell and freeze for an hour or longer to firm up. Serve with whipped cream or not!