Gnocchi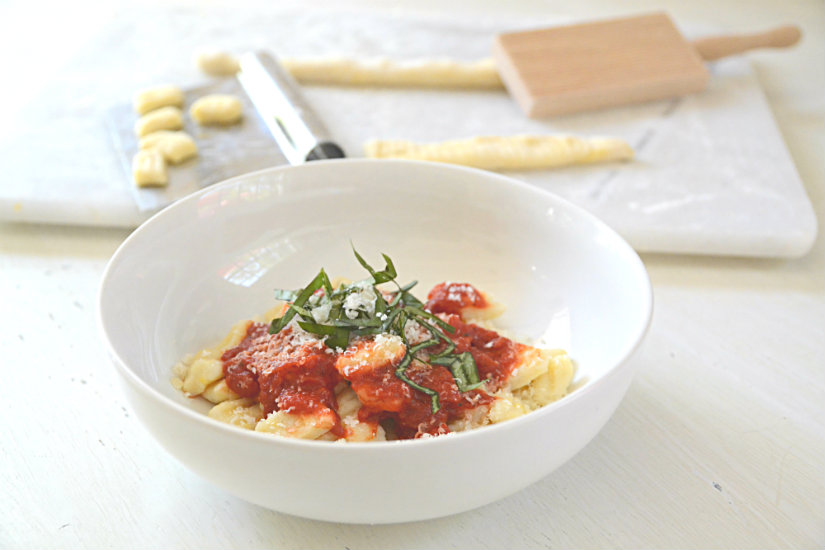 Gnocchi gets a bad rap. This pasta is often described as heavy and chewy … And even called gut bombs. While gut bombs is really only one family's affectionate description … if you have experienced heavy or chewy gnocchi know it is in the preparation. They should melt away in your mouth with one or two chews. I can't say I didn't fear my first attempt at making gnocchi. After all I have this critic who's nonna was an expert.
Served with a fresh light marinara or a butter basil sauce sprinkled with Parmesan this pasta is a delightful change from the usual. And yes, you will say this is delicious!
This is an inexpensive recipe and is not time intensive. It may produce a little hesitancy until you see how simple it truly is.
Recipe
Makes enough pasta for 4 adults
2 Large russets-clean and unpeeled
1 1/2 Cup all purpose flour-start with one cup and add more as needed to prevent a sticky dough
1 Egg
1/2 Teaspoon salt
1/4 Teaspoon white pepper
Just cover the unpeeled potatoes with water in your large pot. Bring to boil and boil until done, about 30 minutes. Use a wooden screwer to check doneness. Do not overcook … This will lead to soggy potatoes and heavy pasta. If you fear this may happen bake the potatoes instead in a preheated 350 degree F oven until done, about 1 hour.
Let the potatoes rest a minute or two and then carefully (so as not to burn yourself) begin to peel the potatoes. After peeled don't wait for cooling … put the potatoes through a ricer. No ricer? Use a hand grater. Keep in mind the size of a rice grain is the goal … not too small or too large grater. Gently spread the potato in a thin layer on a hard surface to cool.
While the potato is cooling start 6 quarts of water boiling. Add a tablespoon of salt to the water.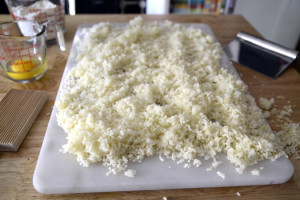 The potato has cooled and is placed on this marble slab for the final steps. Sprinkle the potato with the salt and pepper.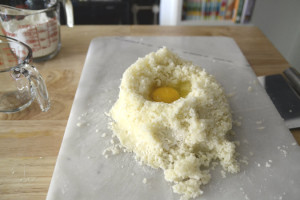 Scoop the potato with your hands and make a well for the egg. Working the dough quickly is important to avoid tough and heavy.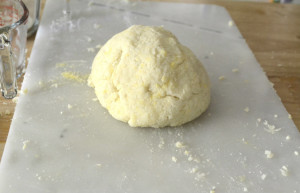 Add one cup of the flour to the potato and egg sprinkling as you work the dough to mix. Form a ball.
Divide the dough into six equal portions. Roll by hand into 3/4 inch diameter logs. Cut across every 1/2 inch. Use a gnocchi board or fork to create indentations on cut edge. The indentation will help hold the sauce.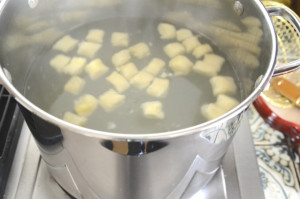 Place the formed pasta into the boiling water. It will sink to the bottom and very quickly float to the top. It is done after approximately one minute. Drain and cool quickly without layering. It's ready for sauce and eating.
Marinara Sauce
Please click on this link for red sauce recipe options on my blog How to Make Spaghetti Sauce.
Butter Parmesan sauce
1/2 Cup butter
2 Cloves garlic
1/2 Cup grated Parmesan
Salt and White Pepper to taste
Pasta water if necessary to thin
Fresh basil optional
Add one tablespoon butter to your sauce pan with two cloves of smashed garlic. Sauté without browning the garlic. Add the remaining butter and stir occasionally while melting. Remove the garlic. Add pasta water a tablespoon or two at a time to thin if necessary. Add the Parmesan as a sprinkle.