Green Bean Bacon Bundles
An Appetizer All Will Enjoy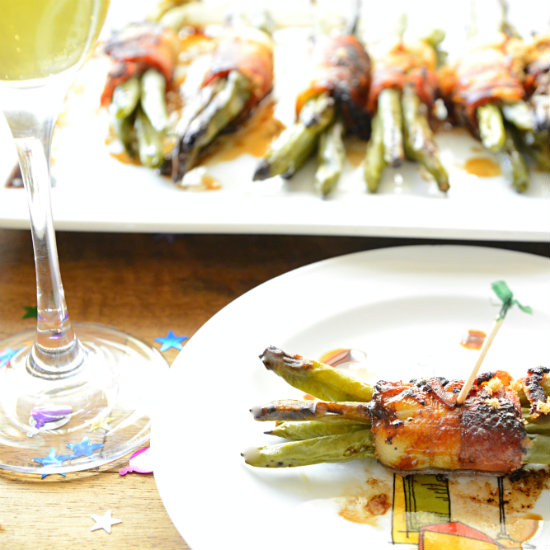 You may have tried a similar recipe as a side dish but we're having these as appetizers. A man pleasin' vegetable everyone will enjoy! Yep, we've already popped the cork. Champagne is a breakfast drink, isn't it?
If you like your green beans a bit crunchy just precook the bacon slightly. Otherwise, if you don't mind a bit of browning and caramelization to your green beans, wrap without the bacon precooking and roast. That simple!
Happy New Year Everyone!
Recipe
Preheat oven to 425 degrees
Fresh Green Beans-4 Green Beans per bundle (same length is better)
Pepper Bacon-4 inch piece of thinly sliced bacon for each bundle
Olive oil
Brown sugar
Aged balsamic vinegar for drizzling
Wash green beans and trim if needed. Dry with paper towel. In a large bowl add the green beans and sprinkle very lightly with olive oil and then toss to give a light coat. A tablespoon of olive oil goes a long way.
Wrap four beans together around the center slightly overlapping with the 4 inch strip of bacon. Place bundle bacon seam side down on parchment paper covered roasting pan, or use a non-stick roasting pan. The pan must have sides but not beyond 3 inches high or so. A non-stick cookie sheet with edges all around to catch the bacon fat works. For more crunch to your green bean precook the bacon slightly … still with the ability to wrap. The bacon is what takes the longest to cook in this recipe.
Next lightly sprinkle each bundle with brown sugar … about 1/4 teaspoon per bundle.
Roast for about 20 minutes for precooked bacon bundles.
For uncooked bacon wraps roast 30 minutes. Recommend turning bundles over half way through the cooking process for even browning. This is not necessary for the precooked bacon bundles.
Drizzle with aged balsamic.
For a Side Dish: Make larger bundles and cut the bacon strips to fit.
Enjoy!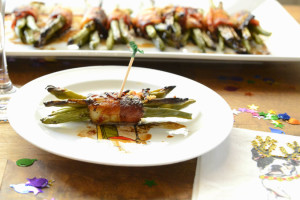 And again Happy New Year from Stella and Me!