Instant Tortilla Soup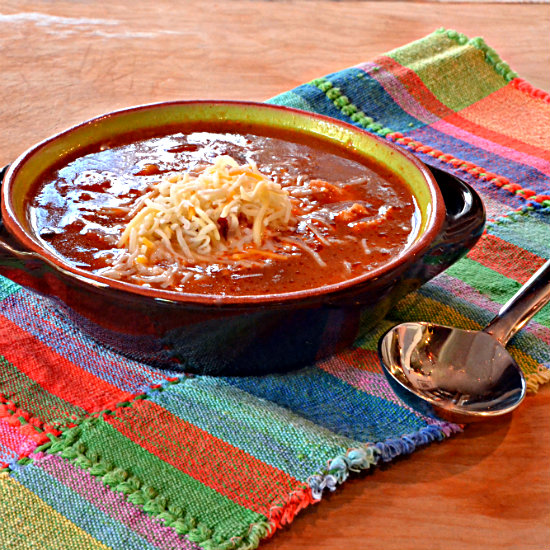 Traditional Chicken Soup is an all time favorite but the request is for something with a little more spice. Of course everyone is hungry now. Let's see what I have in the pantry! And how can I extend 8 ounces of chicken breast to feed 4 hungry adults? This was so quick it was ready to eat in less than 15 minutes. If using 10 ounces of canned chicken it's ready as soon as it heats through. And taste? My tasting critic, "it's the best Chicken Tortilla Soup I've eaten."
I'll be providing a few substitution ideas too.
Here's another Tortilla Soup Recipe for you to try!
Recipe
8 Ounces of skinless and boneless chicken breast (or 10 ounce can of chunky chicken-drained)
15 Ounce can black beans-drained and rinsed
14.5 Ounce can chicken broth
1 Cup of chunky tomato sauce or chunky puree
17 Ounce carton Pacific brand Poblano Pepper Corn Chowder soup (*see substitutions below)
1 Tablespoon of taco seasoning-one packet usually contains 2 tablespoons
Tortilla Chips crumbled in each bowl- about 1/4 to 1/3 cup
Grated Mexican cheeses for sprinkling
Optional toppings-diced avocado, sour cream, chopped cilantro, sliced green onions
Fresh chicken breast will provide a plus and takes little time to cook. In a small skillet add a tablespoon of olive oil over medium heat. Add the chicken and brown both sides, about 12 minutes total. Remove from heat and cool slightly. Not to worry if it isn't quite done. It will finish cooking in the liquid within minutes. Save the drippings to pour into the soup ingredients.
While chicken breast is cooking add in a medium large saucepan the black beans, chicken broth, tomato sauce, soup or *substitution ingredients for the soup, and taco seasonings. Simmer until heated well.
Cube the cooked chicken and add to the heated liquids in the saucepan. Simmer for about 2-3 minutes. (or add the canned chicken and heat through.)
Serve over crumbled tortilla chips and sprinkle with grated cheese.
*Substitutions for the Pacific Poblano Pepper Corn Chowder: 15 Ounce can corn-not creamed-no draining necessary, 4 ounce can diced mild green chiles, 1 cup petite cut tomatoes-no draining necessary. Add these instead of the prepared chowder and taste. You may need to increase taco seasonings to 2 tablespoons.