Italian Flat Bread
Flat Bread Pizza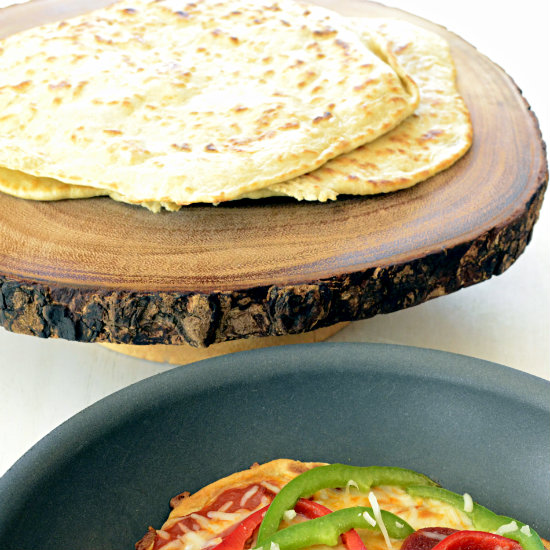 Another Rizzo inspired recipe! A glass of red wine and an Italian Flat Bread Pizza … Nothing easier and Nothing better. Add a vegetarian topping for a vegetarian dinner: ragu, grated mozzarella, sliced green peppers, sliced olives and sliced mushrooms … Or add your favorite Italian meats. Can easily go Vegan!
The bread recipe is simple … it does require a resting period but otherwise fixes up in minutes. Enjoy!
Recipe
2 Cups all purpose flour
3 Tablespoons extra virgin olive oil
1/2 Teaspoon baking soda
1/4 Teaspoon salt (or garlic salt)
1/2 Cup water
Add dried Italian herbs if you like. I enjoy it plain (without herbs) and add toppings for the additional flavors.
Whisk the dry ingredients together in a large bowl.
Add the wet ingredients and mix until all ingredients are incorporated.
Form into a ball. Should not be sticky … If it is add a dash more flour. Place into a small bowl.
Cover with wrap and set aside for an hour to rest.
Divide the dough into 4 equal pieces.
Roll each piece into a ball.
Roll out the dough on a clean dry surface. No need for flour. The dough will not stick.
Roll out each piece of dough until it is stretched to 10 inches, round.
Heat a nonstick skillet over medium/hot heat.
Add the round one at a time. Cook first side until the side to heat is dry and brown in raised areas.
Flip and cook the additional side.
Eat as you would bread or make a pizza in your broiler. Add pizza toppings and broil on hi until the cheese bubbles … Or for those strictly Vegan … until the veggies brown slightly.