Great Grandmother Kobilsek's Melt In Your Mouth Pastry

Better known as Fanny by her friends, Ann's Great-Grandmother Kobilsek catered parties along with raising two children in the 1920's. Kolacky was a favorite during holidays … Extra was sent home with family at the end of their visit. Ann remembers her Great-Grandmother's needlework, especially the stuffed animals she made and gave out with each visit. She even transformed her flapper wedding dress into an evening gown. If alive today I bet we would see her creations on Pinterest.
My first taste of this pastry came at Ann's suggestion. (Ann is my Daughter-In-Law.) Kolacky is often called a cookie but it definitely has the taste and texture of pastry. It is light and rich. And did I say delicious!
This recipe appears time consuming. But actually the prep time is minimal. The dough does require refrigeration for two hours prior to rolling out the dough. This can be shortened by placing the dough in the freezer until it firms slightly. The dough rolls out easily with a well floured board. Zip. zip, it's done!
Everyone enjoys a cookie warm from the oven. I make most cookies in small batches … Whipping them up in the last minute for a fresh dessert or snack. This dessert treat is definitely best when eaten within the 24-48 hours of baking. So, I have divided the original recipe in half. The half recipe will make two dozen 2″ pastries, 1/4″ thick.
Recipe
Preheat oven. Bake at 400 degrees F for 10-12 minutes until slightly golden.
Makes two dozen 2 inch pastries, 1/4 inch thick
1/2 Cup room temperature salted butter, if using unsalted butter add scant 1/4 teaspoon salt
1 1/2 Teaspoon sugar
1 1/2 Teaspoon milk
1 Generous teaspoon of beaten egg yolk (no egg, no sweat)
4 Ounces of cream cheese
3/4 Cup all purpose flour
1/4 Teaspoon baking powder
1/2 to 2/3 Cup fruit filling, or preserves (This recipe I used blueberry)
Powdered sugar for sprinkling
Mix the first five ingredients on medium/low until well mixed. Stir the baking powder into the flour thoroughly with a whisk. Add the flour mixture to the butter mixture and beat on medium/low until mixed. Scrape sides of the bowl and form a ball and then flatten slightly. Refrigerate.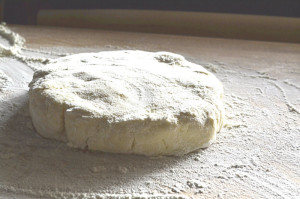 This is the dough after it has been refrigerated for two hours. Generously flour the surface and rolling pin.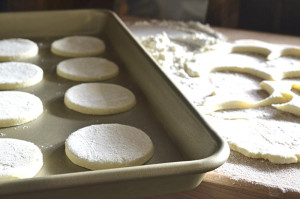 Roll out the pastry 1/4 inch thick and cut with a floured cookie cutter. No cookie cutter? Use a jar lid or narrow rimmed plastic glass. Place cutouts onto cookie sheet. No butter on the cookie sheet needed. Roll the trimmings into a ball and roll out again until all the pastry is used.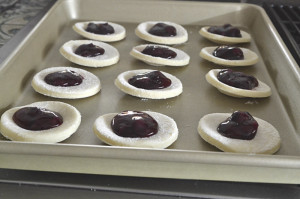 Press thumbprint into top of each cutout. Add fruit, 1/2-1 teaspoon per pastry. I used a very small pestle to form the indentation. This process, thumbprint, may cause the edges to curl upward. The edges will flatten during baking. Bake.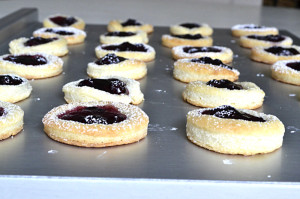 When golden around the edges remove from the oven and cool slightly. Remove to a clean surface and cool. Sprinkle lightly with powdered sugar. And watch them disappear!
Thank you Ann!