Linguica, Fava and Onions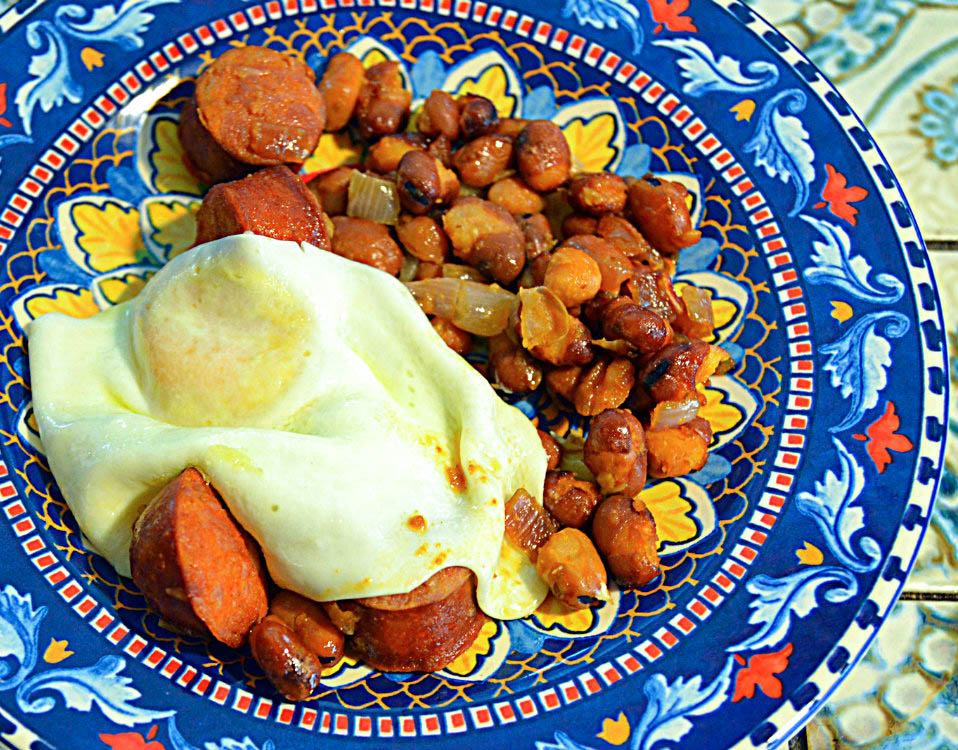 Many of you have followed my brother's recipes. They're amazing! He can make a Whole Wheat Bread to die for! His Pit Beef can't be surpassed. His duck, now there is one amazing Wild Duck. But his passion is making linguica. So, a few weeks ago after spending 4 1/2 hours hand cutting 75 pounds of pork butt, putting everything together for marinating, and claiming this will be the best batch of Homemade Linguica yet! … And his very last go-at-it! HE FORGOT THE CUMIN! This ex-Arkansas Razorback isn't into tears and he wasn't when he broke the news but there was definitely disappointment in his voice. He is sending me some for Christmas and I'm sure it won't need too much dressing up. He's let me know he now has to make another batch … one last perfect batch.
If you're into this recipe you might also like Peas Linguica & Eggs
Recipe
Serves 2-3 depending on appetite
1/2 Pound or more linguica-cut into one inch lengths
Dry red wine
1 Tablespoon olive oil
1 Yellow onion-diced
2 Garlic cloves-minced
2 Cups cooked fava beans. You can use canned if you can't find fresh. Be sure to rinse and drain well if using canned.
1/2 Teaspoon cumin
Salt and Pepper to taste
Eggs
Chopped Italian parsley or sage for garnish (optional)
Malagueta can be added to taste (optional)
In a medium skillet bring linguica and red wine to a simmer. (Add enough red wine to cover the bottom of the skillet by an inch or so before adding the linguica.) Simmer to render off fat and impart the flavor of the red wine.
While accomplishing the above heat the olive oil over medium heat in another skillet large enough to accommodate all ingredients. Sauté the onion until translucent and tender. Then add the minced garlic and fava beans. Continue cooking for a couple of minutes.
Add the cumin and stir. Then add drained linguica. Salt and Pepper as needed.
Cook eggs separately or break into the skillet over ingredients and place a lid to cook. Be sure to reduce heat during this process. When eggs are done the dish is done.
Serve with Italian parsley or fresh sage as a garnish.