Portuguese Pizza Or Folár De Carne
Portuguese Meat Bread Meets Italian Pizza = Amazing!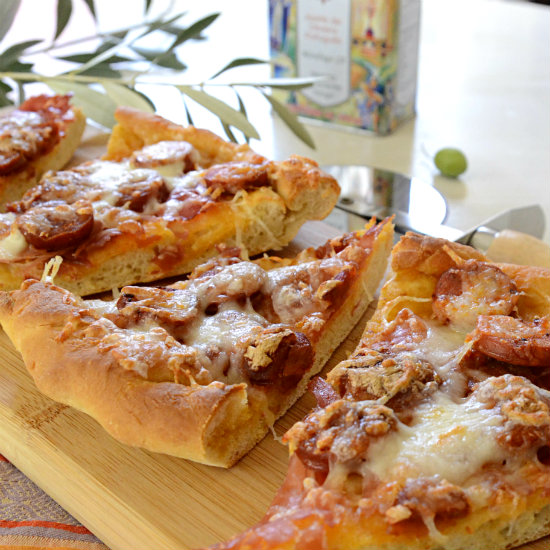 All about the crust and olive oil!
Add meats and it's closest to meat bread. But this is one of those recipes that easily becomes vegetarian even vegan. Make this extra special by using Portuguese olive oil. There's a definite taste difference even a non-discriminating palate can detect. That's me! Haven't met a quality olive oil I didn't like. Olive oil replaces the typical pizza sauce.
This bread dough recipe is great for pizza crust. Make your crust thick, 12-13 inch pizza, or thin and crispy, 14-15 inch pizza. Perfect either way.
Enjoy!
Recipe
The crust requires about 2 hours, start to finish.
Baking time of the pizza is about 10-12 minutes or until lightly browned, baked on the top rack in your oven at 500 degrees F (preheated). Use a thick bottomed cookie sheet. Can use a pizza stone, following the manufacture's recommendations.
Crust
2 1/2 Cups bread flour plus generous amount for kneading, about 1/4-1/3 cup
4 Teaspoons of the Portuguese olive oil
1/4 Cup lukewarm water
1 Teaspoon sugar
2 Teaspoons of dry yeast
1 1/4 Teaspoons salt
3/4 Cup lukewarm water
In a small measuring cup add the 1/4 cup lukewarm water and the sugar. Stir to dissolve. Add yeast but do not stir, just make sure all is touching water. Set aside for 10 minutes.
In a large mixing bowl add the flour and salt and sprinkle with 2 teaspoons olive oil. Whisk.
After the 10 minutes whisk the yeast mixture with a fork. Add to the flour mixture. Add the remainder of the water and mix until the dough follows around the bowl.
Remove the dough to a floured surface and knead for 10 minutes. Form a round.
Sprinkle the bowl to be used for rising with 2 teaspoons of olive oil. Place the round of dough inside the bowl and roll around in the olive oil to cover the outside surface.
Cover the bowl with plastic wrap and then several tea towels. Place the covered bowl in a warm part of the kitchen for 1 1/2 hours or until dough has doubled.
Punch down the dough and let it rest for about 3-4 minutes.
Roll out dough on floured board until it is the size you'd like. The thinner you make it the crispier the crust. Makes one 12-13 inch thick crust or 14-15 inch thin crust. Be sure and crimp edges.
Immediately cover with olive oil, meats and cheese. And bake in preheated hot oven.
Topping
1/4 to 1/3 Cup Portuguese olive oil infused with smashed garlic for about 2 hours then removed.
3 Ounces of prosciutto-thinnly sliced
1/2 – 3/4 Pound linguica-thinnly sliced (not as paper thin as prosciutto)
2/3 Cup shredded Mozzarella cheese
Assembly
Remove garlic from the olive oil and brush or pour oil onto pizza dough.
Place prosciutto over entire surface of the crust.
Add linguica next.
Sprinkle the cheese.
Bake and Enjoy!
Linguica Prosciutto Pizza