Easy Side: Macaroni and Tomatoes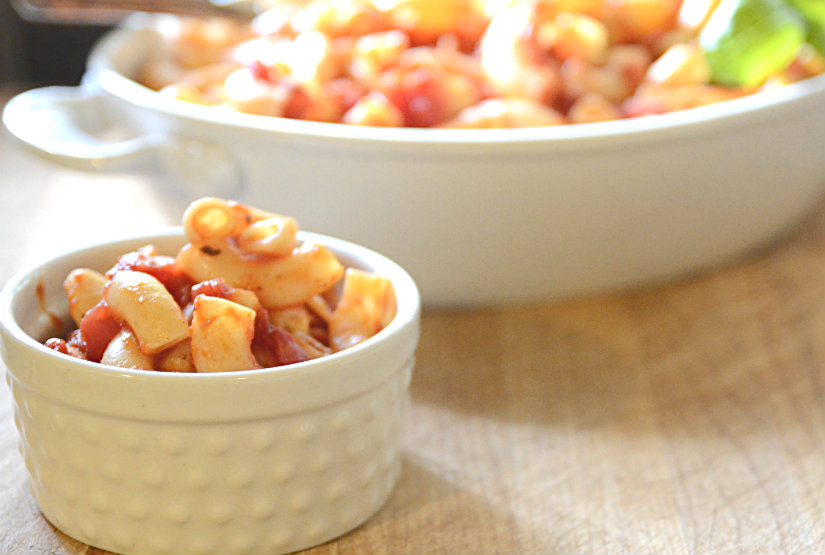 Every Summer for at least my teenage years my mother's garden had an over abundance of tomatoes. We definitely were organic in those days because I remember the tomato worms as we called them. It was my job to pull them off the tomato vines. I still squirm to this day just thinking about them. Tomatoes were definitely one fruit my mother canned every summer. She peeled and cooked them for a bit before placing the fruit into quart jars. These canned tomatoes made the best spaghetti sauce. It was also a tradition to make macaroni and tomatoes on the day of the canning, mainly for mother and me. If you're thinking Italian, this is definitely not an Italian recipe. I'm not sure of the origin. Mother would simply add elbow macaroni to the tomatoes and cook until the macaroni was tender, usually overcooked. Then came sugar, lots of it. I loved it! No this is not exactly that recipe! This is a great side dish to add to your summer barbecue. Light and tasty!
Tomatoes in Jars, take a tour of this site jansjars.blogspot.com for a beautiful view. Not unlike what I remember.

Recipe
1/2 Pound dry large elbow macaroni
15 Ounces can chopped tomatoes (use Romas for a sweeter taste or use tomatoes with onion or green pepper added-your choice)
8 Ounce can tomato sauce
1 Tablespoon butter-prefer European for this recipe
2-4 Teaspoons of sugar
Salt and Pepper to taste
Cook elbow macaroni according to package directions. Drain all liquid except about 1/4 cup.
Add all the ingredients to the cooked macaroni and the 1/4 cup pasta liquid.
Heat until the butter is melted and the sugar has dissolved and other ingredients are heated through.
It's done!