Meatloaf Stuffed Potatoes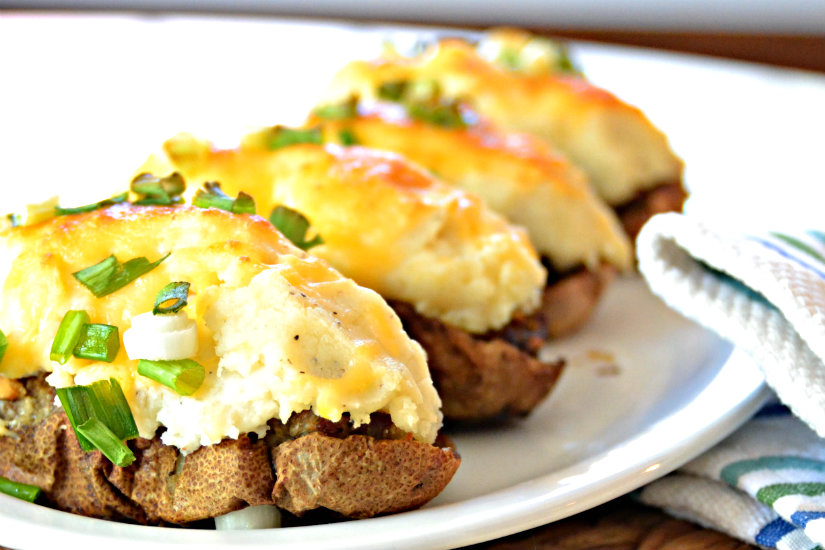 You either love meatloaf or you hate it. In our family not all are into it. Since it's one of my favorite comfort foods I'm always trying to disguise meatloaf to make it more palatable for the very few that turn up their noses. This recipe is somewhere between a Shepherd's Pie and a loaded baked potato. Enjoy this simple variation of meatloaf.
Recipe
Six servings
3 Large baking potatoes-scrubbed, and fork holes made
1 Pound 85% lean ground beef
1 Cup soft bread crumbs
1/2 Cup finely chopped yellow onion
1/3 Cup finely chopped green bell pepper
1 Teaspoon salt
1/2 Teaspoon pepper
1 Egg
1/4 Cup milk (add a tablespoon or two more if the meat seems to dry)
1/4 Cup ketchup
1 Tablespoon of brown sugar
Bake the potatoes at 350 degrees for one hour or until done.
I like to microwave mine instead. It's fast. For the microwave, simple wrap each potato in a paper towel. Microwave on high 2 minutes. Turn the potatoes over and microwave again for two minutes. Again turn the potatoes over and microwave for two more minutes. Continue the process until the potatoes can be squeezed pretty easily. They will be very hot. Careful of the steam. Let them cool while you mix the meatloaf ingredients.
Mix the above ingredients in a large bowl. Hands do it best. Set aside.
Turn broiler to HI for a few minutes.
Slice the potatoes in half and remove the contents to a large bowl. Add 4 tablespoon of butter and let it melt into the potatoes. Set aside. Careful not to tear the skins. Not to worry if you do. One or two tears won't hurt. Place the skins on a cookie sheet and place under the broiler until crispy in appearance. This will only take a couple of minutes. Not too long or they will burn. Remove from the oven.
Turn oven to 350 degrees F.
Divide the meat mixture among the 6 crispy skins. Fill and smooth over to the form of the skin. Place into the oven at 350 degrees and bake for 35 minutes.
In the meantime, add the following to the potatoes and butter.
3/4 Teaspoon salt
1/4 Teaspoon ground pepper
1/2 Cup sour cream
2-4 Tablespoons half and half or milk
3 Slices of bacon-precooked crisp and crumbled
Beat the potatoes until fluffy. Set aside.
When the meatloaf has baked 35 minutes remove from the oven and spoon the potatoes over each. Smoothing as you go. Place back into the oven for an additional 5-10 minutes. Remove.
Generously sprinkle with shredded cheddar cheese and sliced green onions. Let cool for about 5 minutes before serving.