Still in search of Estrada's
Macaroni and Cheese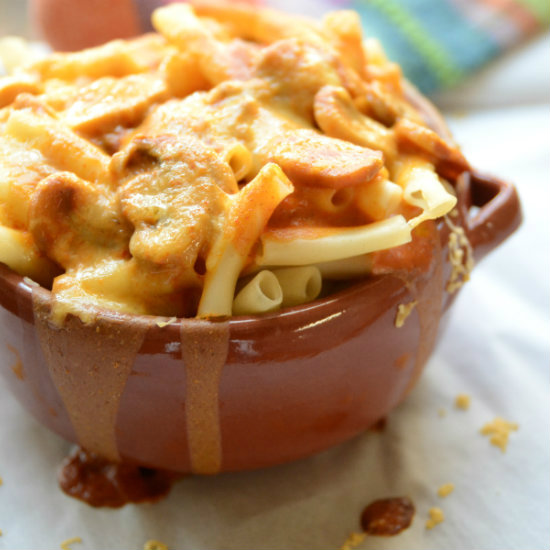 Each year around this time I complete an on-line search for Estrada's Spanish Kitchen recipes … Always hopeful but never successful. For forty years our family frequented this restaurant on Christmas Eve. With the passing of three members of our immediate family we held ourselves together and continued this tradition until the restaurant closed in our city, Visalia … the original location of the restaurant which later became a small chain. It was, is, a significant part of our lives.
This year I sorta hit the jackpot. Chowhound Chow message board had multiple entries about this restaurant and the secret recipes. I quickly zeroed in on the Macaroni and Cheese, one of my favorites. The recipe is simple. I had been advised by an Estrada's family member most of their recipes are surprising simple. There was that Velveeta Cheese! Yikes! Well, it kinda makes sense. Velveeta and Estrada's made their debut about the same time. And who knew … Velveeta is one of those secret ingredients chefs use for the meltability but maybe like to keep quiet.
About the recipe here, this is very good and oh so easy but sorry for Estrada's fans … It isn't even close to the Estrada's Macaroni and Cheese I remember. But it does provide a starting point. How does this one miss the mark? Not as sweet, sauce is orange not red, spices are too prominent (not a bad thing but not Estrada's), the right size of bucatini is hard to come by, and well, just maybe Velveeta wasn't used.
If I was to do this again, and I will, I'd use their authentic enchilada sauce. I have what is supposed to be the Daly City Estrada's, the last of the chain, recipe. Yet, I am not truly convinced the sauce used for their macaroni and cheese is a modification of enchilada sauce.
Recipe
Serves 4 Adults
Preheat oven to 350 degrees F
One pound bucatini pasta (#15 De Cecco's was used but needs to be twice this diameter size) The first picture in this post shows a Mexican made pasta closer to the diameter used by Estrada's, however, the length needs to be similar to spaghetti. The second picture shows the #15 bucatini, right length wrong diameter.
15-16 Ounce can Las Palmas mild Enchilada Sauce
4-6 Ounces Velveeta-cut in chunks
4 Ounce jar of sliced mushrooms-drained
1 Cup grated extra sharp or sharp cheddar cheese
Cook the pasta per directions. This recipe requires the pasta to be cooked beyond al dente for a softer and larger (swelling of the pasta) result.
Heat the enchilada sauce and add the Velveeta to melt. Stir in the mushrooms.
Butter an oven save dish, two 8 or 9 inch square or round, or an oblong or individual dishes. Place the drained pasta into the dish and slowly pour the sauce over all. Sprinkle with the grated cheese.
Bake in the oven until heated through, about 15-20 minutes if sauce was still warm when poured over pasta.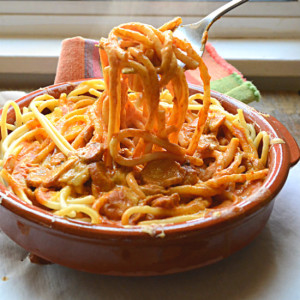 Enjoy!
Mexican Macaroni and Cheese