Easy Delicious Minestrone Soup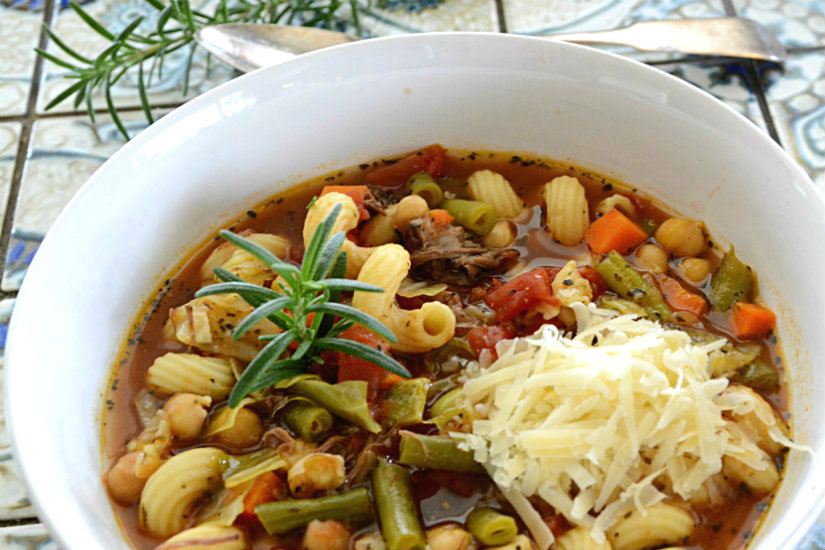 A few days rain and I'm craving soup, a nice hearty vegetable beef soup. And I love this! It's hard to go wrong with Minestrone Soup. I've made the vegetarian, well vegan to be exact but I crave it with a little beef this time. It's to rain twice more this coming week and I know this is just what the family's going to want on those rainy days.
This is a no hurry recipe but can be made quickly by eliminating the beef short ribs and using the beef broth alone. Can be whipped up in 30 minutes. Or use your slow cooker by layering all the ingredients. Versatile.
Recipe
Serves 6 to 8 Adults
1 to 1 1/2 Pounds bone in beef short ribs
1 Large yellow onion-diced
1 Clove garlic-minced
2 Large carrots-sliced
1-2 Ribs celery-sliced
20 Ounces beef broth
15 Ounce can chopped tomatoes-drained
15 Ounce can garbanzo beans-drained and rinsed
1 Cup fresh cut green beans-cut or broken into 1 1/2 inch pieces
2 Cups cabbage-cut in 1 inch cube-like pieces
1 Cup cavatappi pasta-uncooked
24 Ounces of water
2 Tablespoons tomato paste
1 Tablespoon dried basil leaves
1/4 Teaspoon oregano
1/4-1/2 Teaspoon mixed Italian spices (optional)
1 1/2 to 2 Teaspoons salt
In a dutch oven or heavy bottom stock pot add the beef short ribs, onion, celery, and one of the carrots. Brown these lightly over medium heat. No extra cooking oil is needed due to the high fat of the short ribs. You can start with the short ribs alone to produce a more non-stick surface before adding the vegetables. After the onion, celery and carrots are slightly tender and lightly brown add the garlic. Sauté the garlic for a minute. Then add the broth and cover the pot and simmer on low heat for about 2 hours or until the meat falls from the bone.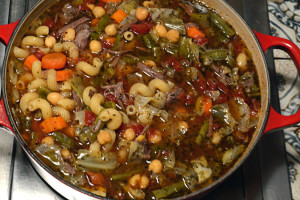 Remove the meat and let cool enough to handle. Remove the bone and excess fat and discard. Break the beef into small pieces and return to the pot. Add the tomatoes, tomato paste and water and bring to a simmer. Add all the additional ingredients including 1 teaspoon of the salt. Stir thoroughly and again bring to a simmer. After 10 minutes taste for more salt need. All should be tender and done in 15 to 20 minutes. I used the full 2 teaspoons of salt and used no low salt products.
Serve with Parmesan and crusty bread!