Moistest Chewy Oatmeal Bars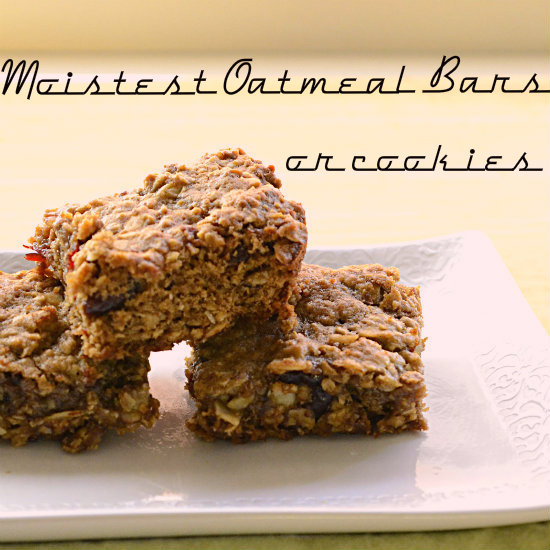 You're looking for the Moistest Oatmeal Cookie? Your search is over! These are perfectly moist and chewy too. This is one cookie I wouldn't feel guilty about eating as part of my breakfast. Packed with the best ingredients! Making these for someone who prefers maraschino cherries (doesn't sound like a bad idea) to raisins in her own oatmeal cookie recipe … But I've added dates, cranberries and silvered almonds to my recipe. Enjoy the texture, moistness and taste of yet another of my oatmeal cookie recipes.
Recipe
Preheat oven to 350 degrees F.
Butter a 7 inch by 11 inch baking dish.
1/2 Cup butter-room temperature
1 Cup packed brown sugar
1 egg-room temperature
1/2 Teaspoon vanilla
1/2 Teaspoon baking soda
1/2 Teaspoon cinnamon
1/4 Teaspoon nutmeg
3/4 Scant teaspoon salt
1 Cup all purpose flour
1 Cup quick oats
1/2 Cup rolled oats
1/2 Cup dried cranberries
1 Cup dates-chopped
1/2 Cup slivered almonds
Soak the cranberries and dates in 1 cup boiling water for 10 minutes then drain thoroughly.
Measure the following ingredients into a bowl and whisk: flour, cinnamon, nutmeg, salt and baking soda. Add the oats and mix thoroughly. Set aside.
In a large mixing bowl beat the butter to creamy. Add the sugar and beat until sugar begins to dissolve. Add the egg and beat until fluffy.
Slowly add the dry ingredients until all is incorporated.
Fold in the cranberries, dates and almonds.
Pour the ingredients into the prepared baking dish.
Bake until the edges become brown and the top is golden brown and not longer looks moist. 15-25 minutes.
OR roll the dough into one inch balls and place onto a lightly sprayed cookie sheet. Use a glass to slightly flatten each. Bake for 10-15 minutes until edges are brown and the top golden.