No Cheese No Bake Cheesecake
Greek Yogurt Cheesecake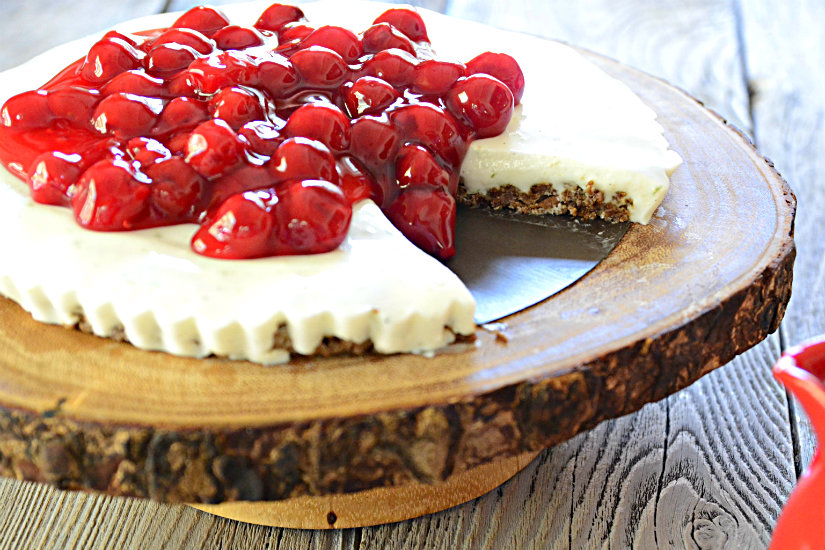 Delicious and light! Oh, and did I mention quick and easy! Don't get me wrong … I love New York Style Cheesecake. And I've labored over my New York Style intense recipe & produced what my Grandmother-in-law stated was absolutely one of the best cheesecakes she had ever eaten next to hers. Ha! (Thank you Mrs. Gindes) There's absolutely room for both recipes in my dessert file. This one is easy to prepare for a last minute dessert. Has an absolutely delicious taste, low in calories and easy change up topping. Take a look at the ingredients and see if this is something you want to give a try.
Recipe
16 Gingersnap cookies (crushed)
6 Tablespoons butter (softened to an almost melted state)
1 Packet gelatin
1/4 Cup cold water
1/3 Cup 2% milk
Seeds from 1 vanilla pod (or 1 1/2 teaspoons very best vanilla)
1/2 Cup superfine baking sugar
17.6 Ounce container 2% Greek yogurt, (Fage)
Juice and zest of two limes
You will need an 8 inch springform pan or fluted tart pan with removable bottom like I've used here. Available at William Sonoma. The tart pan is 9 1/2 inches round and really isn't the diameter for the best looK. This 8 inch springform would be better, here. A perfect time to order on line, Labor Day Sale.
Oil or butter your pan and set aside. Mix the crushed cookies and butter. Press into prepared pan. Refrigerate 15 minutes to an hour to firm up. 15 minutes is usually enough time.
Next for the filling:
Pour the water in a small flat bottom bowl. Sprinkle the gelatin lightly over the surface of the water waiting for it to dissolve as you go. Avoid pouring into one spot … if done that way it will not completely dissolve. Set aside.
In a small saucepan add the milk and heat over medium low. Add the vanilla and stir. Next the sugar and stir to dissolve. You only need to heat the milk … no boiling. At this point the gelatin is added … it will be in one piece in your dish and should quickly disappear into the warm milk when placed. Continue to stir until all these ingredients are incorporated well and dissolved. Remove from heat and cool slightly. Put in refrigerator to continue cooling.
Place the yogurt into a medium bowl and whisk until smooth. Add the lime juice and zest, whisk. Next add the almost room temperature milk mixture. Whisk the ingredients until nice and smooth.
Pour into crust-lined pan. Level. Place in the refrigerator for about one hour or longer.
Serve with sweetened whipped cream, and with or without a fruit topping.
Serves 8-10.
FRUIT TOPPING
16 Ounces of fruit (Berries-blueberry, raspberry, blackberry & strawberry (Use one berry type or combination)
1/2 Cup or a little less of sugar
1/4 Cup water
Pinch of salt or not
Teaspoon of lemon juice or not
Add berries and other ingredients to a sauce pan over medium/low heat.
Stir the mixture to incorporate the ingredients.
Bring to a boil. Then decrease heat and maintain a simmer.
Simmer 10-20 minutes until the mixture thickens and reduces a bit. No stirring needed except to check thickness.
Cool to room temperature or cooler before using.
Shortcut: Use prepared pie filling from your grocer.