One Recipe For Two Savory Pumpkin Dishes
Pumpkin Parmesan Cream Soup
Pumpkin Parmesan Cream Pasta Sauce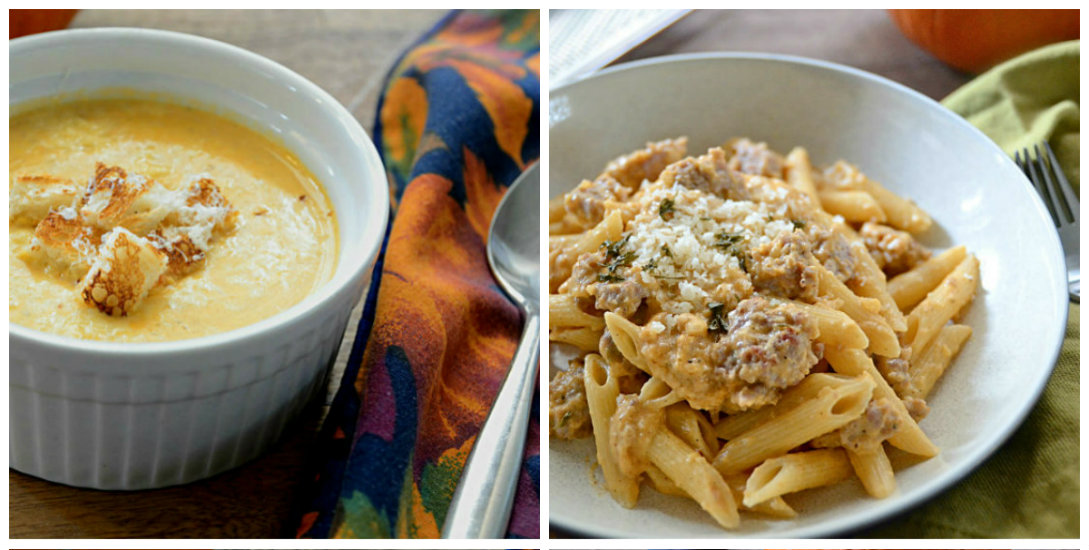 William Sonoma Gift Certificate … loved my birthday gift. Wandering around in the WS Store I came across all sorts of sauces, starters, mixes not to mention the beautiful holiday ware. I became intrigued with the holiday sauces. I tried to read the ingredient labels but my contact wasn't cooperating. (I do the one eyed thing.) I could only see that the ingredient lists were lengthy. And while I do feel WS has amazing prepared or nearly prepared foods the lists seemed too long. (I'm very pleased with my all clad waffle iron. Thank you Will.)
So, here I am making my own. And I love the two for one idea. It actually works!
Recipe
Soup – Serves Four
1 Large shallot-minced (generous 1/2 cup)
2 Cloves garlic-minced
1 Tablespoon olive oil
15 Ounce can pumpkin puree
2+ Cups low sodium low-no fat chicken broth
1/2 Teaspoon Italian seasonings
1/8 to 1/4 Teaspoon cinnamon (add to taste)
Pinch nutmeg
3/4 cup grated Parmesan (plus for sprinkling)
1/2 Cup dry white wine
2/3 Cup heavy cream
Salt and Pepper to taste
1/4 Teaspoon red pepper flakes
Sauté the shallot in the olive oil over medium heat until limp. Add the garlic and continue another minute.
Add the pumpkin puree, chicken broth, Italian seasonings, cinnamon, nutmeg and cheese. Heat through.
For a creamier, smoother soup whirl ingredients in a food processor until creamy. Pour back into saucepan and bring heat back up over medium heat.
Add the wine and simmer for 10 minutes. Taste for salt and pepper, add as needed.
Then add the cream (no boiling) and taste for need of salt and pepper. Add red pepper flakes. Heat through and it's ready.
If you prefer thinner soup add more chicken broth and adjust salt and pepper to taste. For thicker soup heat a bit longer. Serve hot or cold with croutons and a sprinkle of parmesan.
Recipe
Pasta Sauce – Serves four
To Soup ingredients:
1 Pound sweet Italian sausage
8 Ounces penne pasta
Parsley for garnish
Follow the recipe for soup. And add one pound of cooked and drained sweet Italian sausage at the very end of cooking. The sauce should be thick. Cook down if too thin.
Cook pasta according to package directions.
Skip the croutons as with the soup and do a little parsley, minced. Sprinkle with cheese.
One Recipe for Two Savory Pumpkin Dishes, Enjoy!