Oven Overnight Pot Roast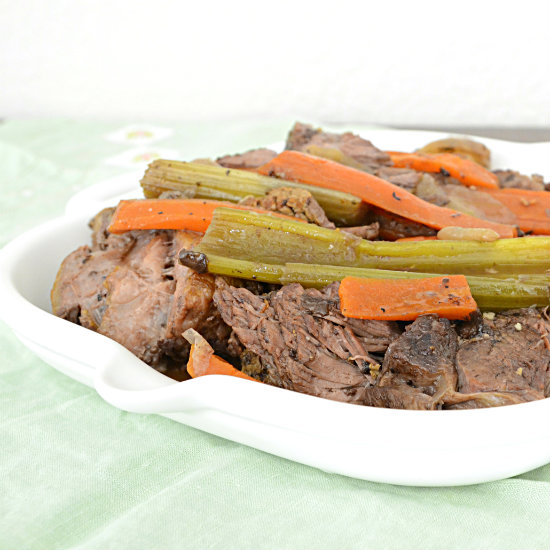 Great meal in itself BUT I actually made this to use the meat in an Old Fashioned Tamale Pie. How easy this is! Yes, I have a crock pot but there is something just a little better about a roast coming from the oven. Follow this simple recipe and by morning you have a deliciously cooked pot roast.
The meat from this pot roast is to be used in my Old Fashioned Tamale Pie. In the meantime, enjoy this pot roast and a newer version of my Tamale Pie, here.
Recipe
Preheat oven to 200 degrees F.
2- 2 1/2 Pound beef chuck roast
1 Tablespoon olive oil
Sweet yellow onion-cut in quarters
3 Garlic cloves-peeled and smashed
4 Large carrots-peeled and sliced lengthwise & diagonally if very long
3 Ribs of celery-cut diagonally
Freshly ground pepper
Freshly ground sea salt
1/2 Cup red wine or beef broth or water
In a large dutch oven (just large enough for the roast and about an inch around the edge) heat the oil over medium/high until hot but not smokey. BTW, the meat will not shrink with this slow cooking method.
Place the meat into the hot oil and sear on each side until well browned.
Add the vegetables around and underneath the roast to caramelize. Not the garlic, however. The more caramelization the better the taste. Add the garlic toward the end to avoid burning.
Grind fresh pepper and salt over both sides of the seared beef.
Pour the liquid along the sides of the meat. With a chuck roast little liquid is needed. You will see when all is done … Plenty of liquid for gravy.
Place a lid on the dutch oven and place into the preheated oven. Cook for 8-10 hours. Avoid lifting lid. It will reduce the heat. A constant temperature is important to avoid cooking at a dangerously low temperature.