Pancit
Roselyn's Recipe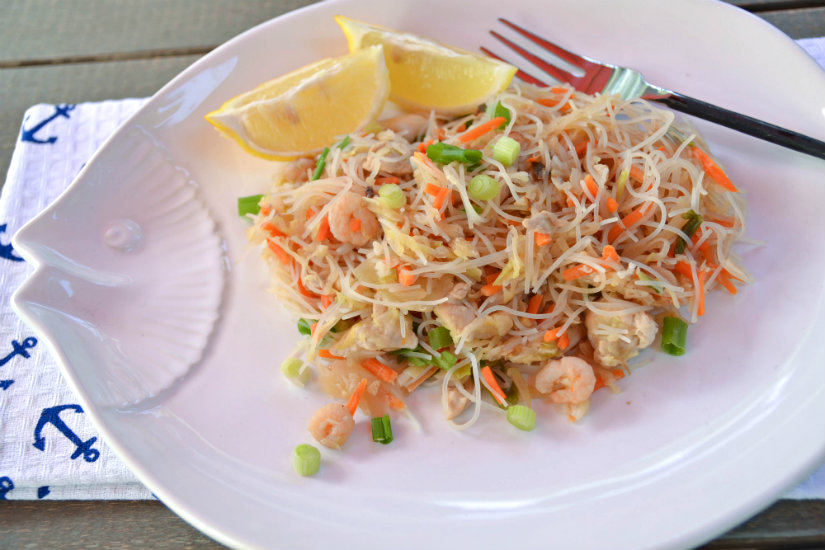 Another great Filipino recipe from Roselyn, my neighbor, who loves to cook as much as I do. This is an amazing chicken and shrimp version. Delicious! And if you aren't careful you might find yourself saying,"I can't believe I ate the whole thing!"
Roselyn's putting the recipe together for me. I hope she doesn't keep us in suspense long!
Here it is! Roselyn's Pancit!
Recipe
2 Tablespoons of olive oil
2-3 Cloves of garlic-sliced thin
2 Packages of Golden Bihon (clear noodles) 1 pound each
2 Halves skinless and boneless chicken breasts (or equivalent of pork)-cubed
6-10 Ounces of frozen cooked baby shrimp
1 10 Ounce bag shredded carrots-chop this slightly
2 14 Ounce bags of shredded cabbage-chop this slightly
2 15 Ounce cans of chicken broth
Salt to taste
2 Bunches of green onions-sliced
Serve with wedges of lemon
Place the noodles in a large colander. Run water over the noodles for about 3-4 minutes.
In a large skillet add the oil and garlic over a medium/low temperature. Stir for about 2 minutes. Avoid burning the garlic.
Increase the temperature to medium/medium-high and add the meat. Stir while the meat begins to lose its color.
Next add the carrots, cabbage and half of the sliced onions slowly to avoid cooling the skillet. Cook until vegetables begins to soften.
Add the shrimp and heat through.
Add the drained noodles a little at a time (breaking off or cutting as needed) and moisten mixture with a little of the chicken broth. Mix thoroughly. Continue this process until all noodles and broth are used. Cook noodles until they are al dente. This won't take long.
Serve with wedges of lemon. Lemon brings forward the flavor. A must!
Soy Sauce is an option. Mushrooms can be added in the beginning with other vegetables if desired.