Butterscotch Pecan Pie Tartlets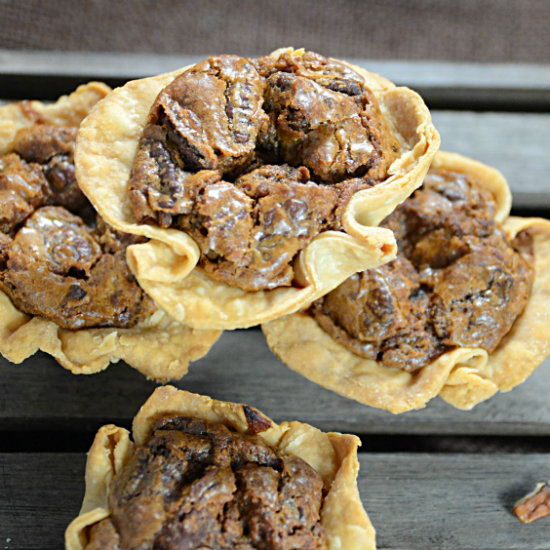 It's National Pecan Pie Day! I love Pecan Pie. That wasn't always the case. When the holidays roll around I sometimes wish I was that 13 year old who turned up her nose at rich desserts. But I'm getting better at taking just a sliver.
This Pecan Pie doesn't have corn syrup but before you thank me know I've added a little something else. You'll love it!!
Recipe
Makes 12 cupcake size tartlets or one 9 inch pie
Preheat oven to 400 degrees F (Only baked at this temperature for 10 minutes then to 350 degrees for approximately 20 additional minutes for tartlets OR approximately 30 additional minutes for the pie. The tartlets or pie should be set and crust nicely browned.)
You will need a 9 inch single pie crust dough. I used butter and no shortening but this is your choice. You may wish to take a shortcut and use a refrigerated pie crust. Here is the crust I used for these tartlets.
1 1/2 Cup all purpose flour
1/4 Teaspoon salt
1/2 Cup cold butter
3 Tablespoons water
Whisk the salt and flour. Cut the butter into the flour until evenly crumbly. Add the water and bring dough together into a ball. Working it too much creates tough dough. Roll out 1/2 the dough at a time. Use a biscuit cutter (or can rim) to cut the dough to fit the cupcake pan. You will need a cutter approximately 1/2-1 inch larger in diameter than the cup's rim. If you are doing rustic you can roughly cut the dough. The dough need not be precisely cut for either technique.
Filling
1 Cup brown sugar-dark
1/4 Cup sugar
3 Large eggs
1/2 Cup butter-melted
1 Cup butterscotch chips-melt in microwave at 20 second intervals until you can stir to creamy
1 Cup pecan halves or pieces or combination
1 Teaspoon vanilla
Measure sugars into large sized mixing bowl. This filling can be mixed by hand. Whisk eggs into sugars until smooth. Add melted butterscotch and butter. Mix well. Add the vanilla and pecans and mix. Pour or ladle the filling into unbaked pastry shells. Bake in preheated oven at 400 degrees for 10 minutes then turn down to 350 degrees … then bake for the time indicated above.