Pesto Spread
with Italian Grill Cheese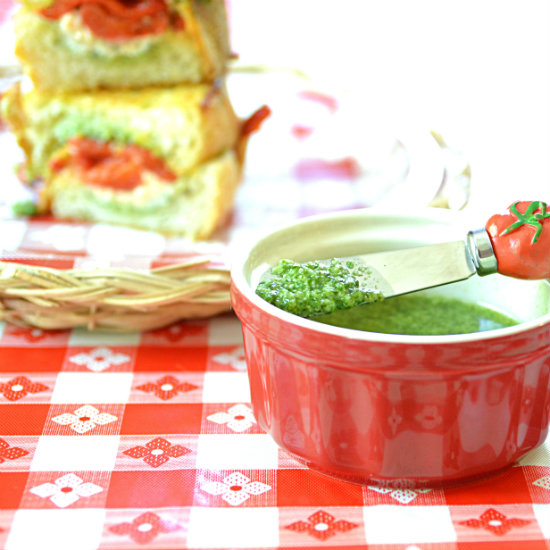 Traditional Basil Pesto used as a sandwich spread. This may go quickly during your Fourth of July Celebration. So, you may want to double the recipe. The garlic taste is pronounced. I have family who say they're allergic to garlic but really just want a great flavor without tasting garlic. How does that work?! If this is your thought process this recipe isn't for you. Pesto is versatile. Use this recipe as a pasta sauce for linguini. Mix in a bit of plain Greek yogurt or sour cream for a great addition to roasted meats. This is a great topping for crostini too. Enjoy my friends!
Recipe
Italian Grill Cheese
Crusty sourdough bread-slice into one inch slices
Jarred (with no vinegar) roasted red peppers-drained
Butter-room temperature-about 2 teaspoons per sandwich
Gorgonzola Cheese crumbles-1 tablespoon for each sandwich
*Basil Pesto for spreading
For each sandwich:
First preheat your griddle or grill. Or a skillet works in a pinch.
Spread butter on the outer surfaces of two slices of sourdough bread.
Spread pesto on the inner surfaces of these two slices.
On the first slice, pesto side up, of the treated slices add the drained bell pepper and spoon the Gorgonzola on top.
Cover the bell pepper/gorgonzola with the second slice, butter side out. Both buttered sides should be on the outside of the sandwich at this point.
Place sandwich on the grill over medium heat and grill each side until toasty brown.
*Basil Pesto
One stuffed cup of roughly chopped basil-big stems removed
1/4 to 1/3 Cup best extra virgin olive oil
2 Tablespoons pine nuts
1 Clove garlic-chopped
1/4 Cup grated best Parmesan Cheese
Salt to taste
Whirl in a blender. That simple!