Pineapple Macadamia Nut Cookies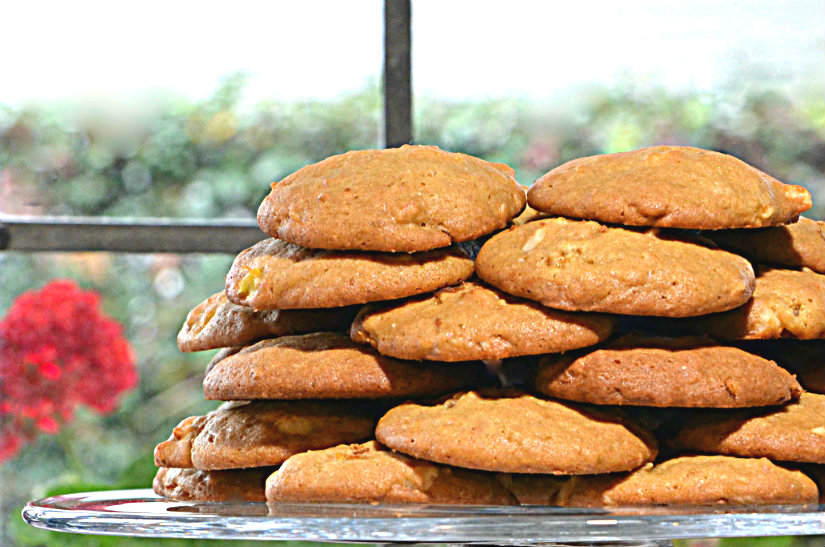 Still under the influence of my recent trip to Hawaii. The recipe is a long time favorite with a switch to macadamia nuts from walnuts. The crushed pineapple is easy but chopping chunks of pineapple may give more pineapple taste. A deliciously sweet pineapple cookie with sea salt macadamia nuts. Yum.
Recipe
Preheat oven to 350 degrees F
Use parchment paper to cover the cookie sheet or lightly grease the cookie sheet before use
Makes approximately 4 dozen 2-inch cookies
1 Cup sugar
1 Cup dark brown sugar
1 Cup shortening
3 Eggs
2 Teaspoons vanilla
3 1/2 Cups all purpose flour
1/2 Teaspoon salt
1 Cup chopped pineapple or crushed pineapple
1 Teaspoon baking soda
1 Cup roughly chopped sea salt macadamia nuts
Cream shortening and sugars until well blended. Add one egg at a time and beat well after each. Add the vanilla and mix.
Whisk the salt through the flour, set aside.
Stir the baking soda through the pineapple. It will foam a bit. Set aside.
Add the pineapple to the creamed mixture and gradually add the flour until just incorporated.
Fold in the nuts.
Spoon batter onto the prepared cookie sheets and bake until slightly golden. About 12 minutes.