Pork Casserole Portuguese Style
A Hearty Dish That Doesn't Skimp On Taste!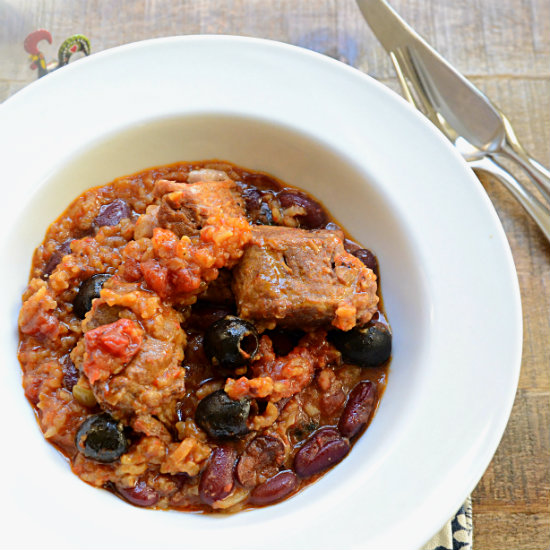 So, what's going on here? There's a unique condiment in Portuguese cuisine, Massa De Pimentao. This Red Paprika Paste adds a lovely flavor to meat, poultry and fish alike. I've put together a very quick paste, not to compete with the usual days process, that works perfectly in this dish. If you like the flavor of sweet paprika (Spanish paprika will do … mild to hot, your choice) and roasted red bell peppers you've got to try this!
Recipe
Preheat oven to 350 degrees F
8 Ounce jar of roasted red bell peppers-drained (Note: no vinegar in the ingredients)
2 Cloves of garlic, peeled and smashed
1/4 Cup Olive oil
1 Teaspoon salt
1 Teaspoon sweet paprika
2 Pounds pork shoulder butt roast-cut off all fat and cut into 1-2 inch cubes, if it's bone in add to dish for flavor removing at the end of cooking
1 Yellow onion-chopped
1/2 Tablespoon olive oil
15 Ounce can tomatoes-petitt cut
10 Ounce can beef broth concentrate-undiluted (undiluted, usually requiring equal amount of water to dilute)
16 Ounce can red kidney beans-rinsed and drained
Large can of pitted black olives-drained
1/2 Cup uncooked regular rice
Water as needed
Salt and Pepper to taste
Whirl the first 5 ingredients in a food processor and set aside.
Add the 1/2 T olive oil to a large dutch oven over medium heat and sauté the onion. Add the meat cubes and continue until browned. (The meat need not be browned but I opt for this if there is time.)
If you have browned the meat remove the meat from pan to cool slightly. Pepper meat lightly. Drain any excess fat from the dutch oven without removing cooked drippings and onions.
Place meat back into pan and pour pureed ingredients from your food processor over the meat and onions. Stir to cover meat throughly with puree.
Without stirring add the tomatoes, beans, olives, rice and lastly the broth.
Place into preheated oven without a lid and bake for two hours.
Add water as needed to maintain the look immediately below. I added about 1 cup during the cooking process.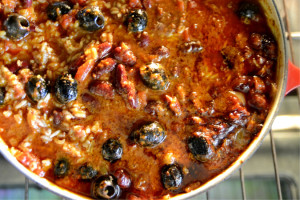 Serve your one dish meal and be ready for the compliments. It's amazing!