Portuguese Beans with Linguica-Recipe 2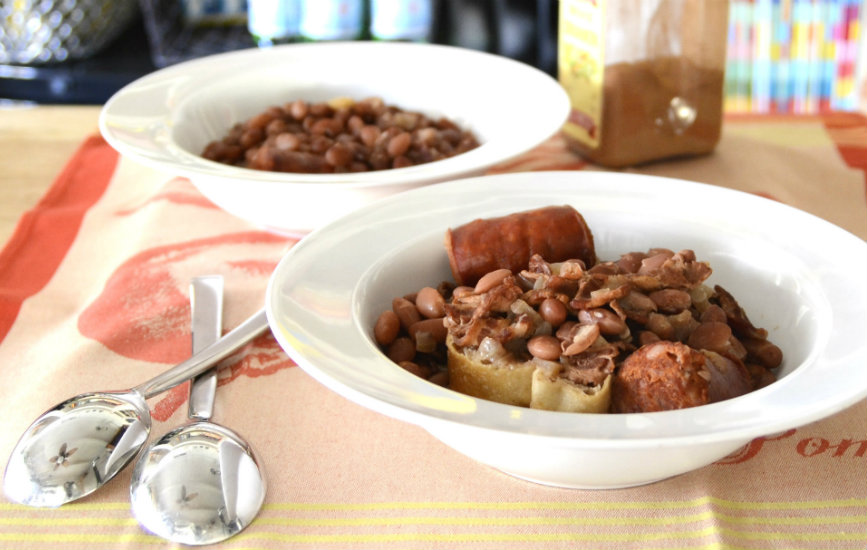 On December 8th I posted my first Portuguese Beans Recipe. Now, a real mystery … I believed that recipe to be my dad's. My brother was discussing the first recipe … And Dan, who happens to be a Portuguese home cookin' connoisseur, has convinced me the following recipe is dad's. The main ingredient change is the pinto beans to pink beans. Other family members have confirmed pintos were only used if pink beans were not available. Compare the two recipes. A few other changes are made here, too.
This is a pretty simple recipe … Only minutes to prep.
Serve it as we ate it … over bread and generous slices of linguica. Amazing!
Recipe
1 Pound of dry pink beans-picked through and rinsed
1/2 Pound of bacon-slices cut across every inch
1 Yellow onion-chopped
1 Clove garlic-minced
8 Cups of water-less for presoaked beans
1/2 Teaspoon ground cinnamon
1 Teaspoon salt-you will need more, taste and add until flavors are brought through
Pepper to taste
12-16 Ounces of linguica-sliced into 2 inch lengths, cooked first, or cooked in the beans
Soak the beans in water overnight for faster cook times. Drain off the soak water and set beans aside.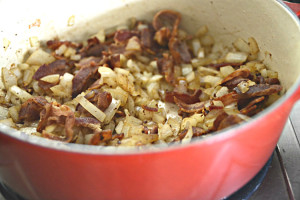 Cook the bacon in a dutch oven or the pot you plan to use for cooking the beans.
Remove the cooked bacon and drain off the fat. Leave the drippings stuck to the pot.
Add the onion to this pot and turn heat to low medium. Cook about 5 minutes.
Add the garlic and add back the bacon. Cook another 2-3 minutes.
Add the beans to the pot. If you have soaked the beans you will not need as much water during the cooking process … add water until just above the beans. If you have not soaked the beans add all 8 cups of water. Check the beans water level during the cooking process.
Add the cinnamon and pepper.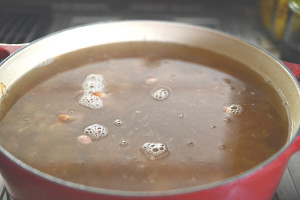 Water level for non-soaked beans.
Add the teaspoon of salt after the beans have cooked for around an hour. As the beans cook longer taste test the juice for salt. Add as needed.
The soaked beans will take around 2-3 hours and the non-soaked around 4-5 hours.
Cook the linguica in a skillet and drain off the fat. Add in the last 30 minutes of cooking. Or simply add linguica to the beans without skillet cooking it first.
Many have enjoyed the first recipe post of December 8th. Try this … a little different … but you might be like me … I have never met a Portuguese Beans Recipe I didn't like, especially with linguica.