Portuguese Meat Bread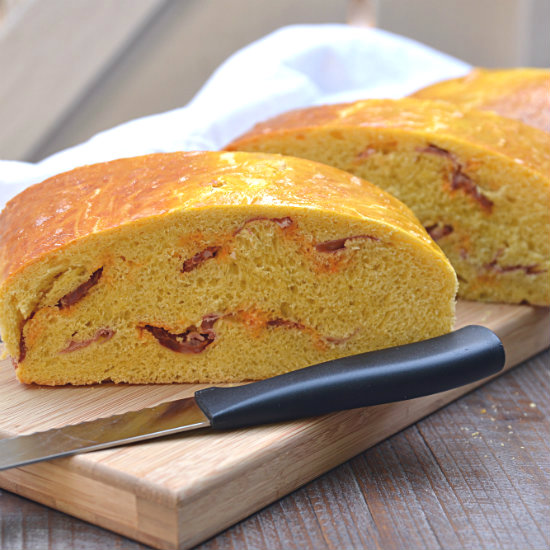 Backyard chickens are busy this time of year. With the extra eggs I opted to bake this delicious Portuguese Meat Bread, a meal in itself with a little side of greens or green salad. My choice as a side today with my Portuguese Turnip Green Soup … coming up next!
This bread is rich in eggs & butter! What this means to bakers? This recipe requires extra time to rise … about 2 hours. Plus, it's a little sticky during kneading.
It's a forgiving recipe and certainly worth the effort because the outcome is amazing.
Recipe
I baked this bread at 375 degrees F in a well buttered 11 inch by 7 inch by 2 inch baking dish. This was a squeeze and took more than 30 minutes to bake. You can use a 8 inch square baking dish successfully. Judge the doneness by the golden brown as well as the 30 minute mark.
4 Cups of bread flour (more for kneading)
1/4 Ounce package of instant yeast (2 1/4 teaspoons equivalent)
1 Cup warm (not hot) water (yeast cells die at 130-140 degrees F)
2 Teaspoons salt
1/2 Cup butter-melted and cooled a bit
6 eggs + 1 egg yolk for wash
1 Tablespoon of olive oil
3 ounces of prosciutto
1/2 Pound of linguica-sliced 1/4 inch and precooked (pan fried) slightly to render off some of the fat
Whisk the flour and yeast together in a large bowl.
Add the salt to the water and stir until dissolved or near so. Add to the flour/yeast.
With a handheld bread hook stir the mix. Add one egg at a time and stir to mix after each.
Add the butter and mix.
Pour the olive oil over hands and into the bowl. Gather the dough and form a ball incorporating the olive oil.
Place the dough on a well floured surface. This dough can be sticky. Knead vigorously for about 4 minutes adding flour as needed. Form a smooth ball.
Grease (butter) or oil (olive oil) a large bowl and the entire outer surface of dough. Not heavily.
Place the dough into the greased bowl and cover with several kitchen towels. Place in a draft free area, warmish. Let rise until double in size. About 2 hours-longer if your kitchen is cool.
Punch down and again knead vigorously for about 4 minutes. Form a ball and divide into 3 equal sections.
Roll each section separately (to fit baking dish) on a well floured surface.
Layer the first section into the buttered baking dish.
Add half the meats-layering over the first layer of dough in the baking dish. Rip the prosciutto into pieces as you go.
Layer the second section of dough over the meats. Place meats on top again. Lastly, layer the last section of dough. Press slightly to seal around the edges.
Cover and let rise for about 30-40 minutes.
Brush the top of the bread dough with the egg yolk that has been whisked with one teaspoon of water.
Place into preheated oven and bake for 30 minutes or until golden brown.
Let cool for about 30 minutes before slicing.