Portuguese Paella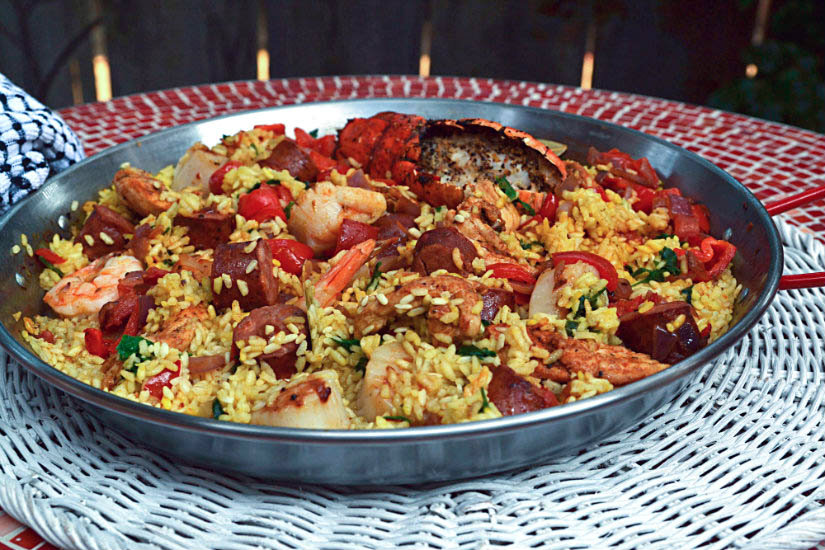 Just a little something different for my guests. This has something for everyone from chicken to lobster. Never miss a beat sipping on wine and schmoozing … Have all the ingredients prepped. We love scallops and lobster … Clams on a lesser scale. If you're into clams you can add to the mix easily. Serves a group well.
Recipe
Serves 4-6 guests
Have all ingredients ready:
Olive oil-about 6 tablespoon-divided
3 Teaspoons smokey paprika
1 Teaspoon dried oregano
Salt and Pepper
1 Pound skinless and boneless chicken breasts (thighs work too) Cut into pieces for quick cooking.
3 Cloves garlic-minced
1 Teaspoon red pepper flakes
2 Cups Arborio rice-uncooked
1/4 Teaspoon (heaping) saffron-crush as you add
1/4 Cup chopped fresh parsley
32 Ounces of chicken broth
Zest of two lemons
3 Bayleaves
1 Red onion-chopped
1 Red Bell pepper-chopped
2 Plum tomatoes-chopped
3/4-1 Pound linguica-one inch slices
1-2 Tiger shrimp per guest
4-6 Scallops
1 Lobster tail
Lemon pepper
1/2 Pound scrubbed clams
In a small bowl whisk together:
1T of olive oil
Smokey paprika
Oregano
Add the chicken pieces and coat well. Sprinkle with salt and pepper. Set aside
In a large skillet (or paella pan) add the following ingredients over medium heat. Turn the pan on the burner as needed to distribute the heat.
2 T olive oil
Garlic
Red pepper flakes
Rice
Add: (Add the stock two cups at a time and wait for it to be absorbed. Turn pan to assure even heat.) Turn to low/medium heat.
Saffron
Parsley
Chicken broth or stock
Zest
Bayleaves
In another skillet over medium/high heat add:
2 T olive oil
Onion
Chicken
Add:
Linguica
Cooked quickly especially if thin chicken slices, such as, chicken tender slices.
Push aside meats before done and add:
Scallops and shrimp-these only require only a few minutes of cooking. They will turn opaque as cooked and the shrimp will turn pink.
Bell pepper
Tomatoes
Add all these separately cooked ingredients to the rice. Add clams to the rice now if using. Cover and let cook low for about 5-7 minutes. Use foil for a cover if you haven't a cover large enough.
In the meantime:
Heat broiler to hi
Rinse lobster tail well and drain. Cut down the back of the lobster tail and spread open. Sprinkle one tablespoon of oil over the exposed meat. Sprinkle with lemon pepper. Place into a low sided pan with cut side up. Broil for 7-10 minutes depending on the size of the tail. The meat is opaque when done. Remove from the heat and check if you aren't sure. Be sure to check in the thickest part of the meat.
Remove cover from the paella pan and clams should be open and done. Sometimes one or two won't open. Use a butter knife to open.
Add the lobster tail without removal of the shell for a smashing presentation or carefully remove the meat from the top and cut into bite size pieces. The same can be done of the clams-removing from the shell before serving.
Serve dish with lemon slices if you wish or additional parsley sprinkled over the top.