Portuguese Pork and Beans
Marinated Pork and White Beans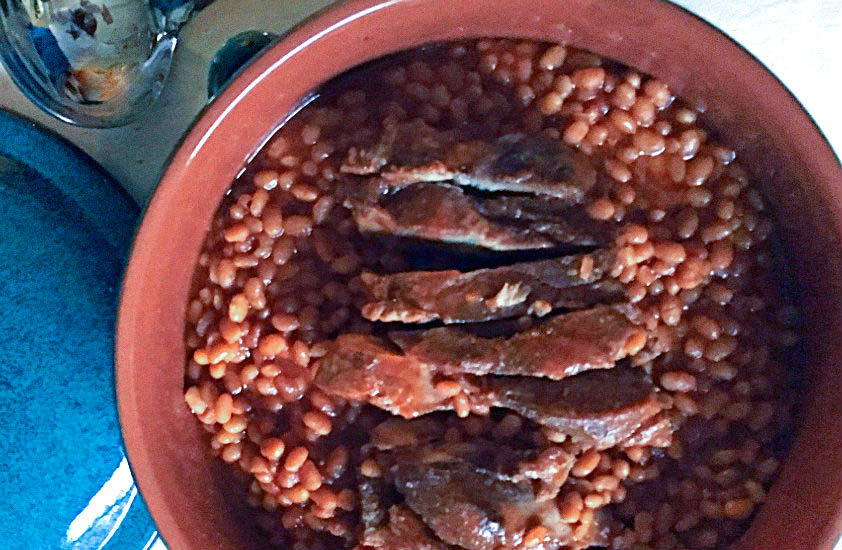 The perfect meal for Dan's birthday. Two of his favorites baked together, melding the flavors for an amazing taste experience. Add a beer and my brother is going to be a happy guy.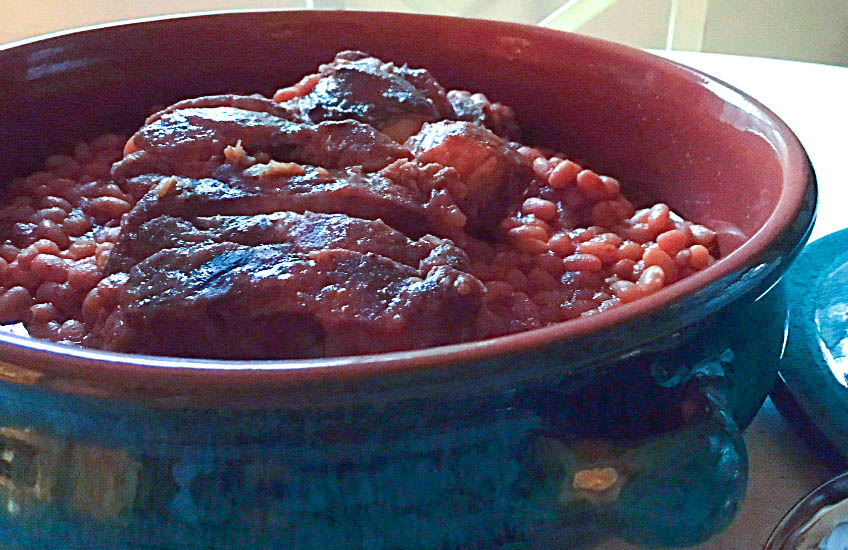 I've simply combined two of my Grandmother's recipes into one. Try this combination or if you prefer bake them separately. In our family these recipes, marinated pork & white beans, were meant to be served together. The beans take a good amount of time and are best baked long hours without a lid. If you are baking these together the meat will cook much faster. It is best to add the meat at the end of baking to assure the meat isn't overcooked. It is unlikely you will over bake the beans.
Marinate 4 pound pork ribs*. Marinate for 24 hours for this recipe. Here is the recipe for the marinade.
1-2 Tablespoons of olive oil (used in browning process)
For the beans:
1 Pound dry white beans
15 Ounce can tomato sauce
1/4 Cup sugar
1/3 Cup + 1 T packed dark brown sugar
1 T salt
Water
4 Slices of bacon
Rinse & remove stones from beans.
Soak beans overnight.
Drain beans and place into a dutch oven.
Mix sauce, sugars, and salt. Pour over drained beans.
Add enough water to cover beans by 2-3 inches.
Layer the bacon on top
Place into preheated oven at 400 degrees F. No lid. Bake for 3 1/2 hours. Check to make sure beans are moist, 1 inch or a little less liquid over beans is okay at this point. Continue cooking while fixing meat.
Now for ribs:
Remove from refrigerator. Remove spice bag or tea strainer of spices.
Place ribs and enough marinade to cover slightly in a skillet or large saucepan.
Simmer for about 10 minutes over medium heat. This will render off excess fat.
Remove the meat and blot with paper towels. Discard the marinade at this point.
In another skillet or rinsed and cleaned skillet used to simmer add a tablespoon or so of olive oil.
Over medium/high temperature brown the ribs only. We are not looking to cook through.
Drain ribs and place down into beans. Add lid to cover. Turn oven to 350 degrees F. Bake for 20-25 minutes. Both beans and ribs should be done at this time. If the beans are still firm remove the ribs to a covered dish and continue baking the beans. If the beans are too soupy remove the lid. Bake beans until liquid isn't too soupy and beans are soft.
*This combination recipe doesn't work well with a pork shoulder roast even with the roast baked for several hours in the beans.
Enjoy!!