Portuguese Sopas Recipes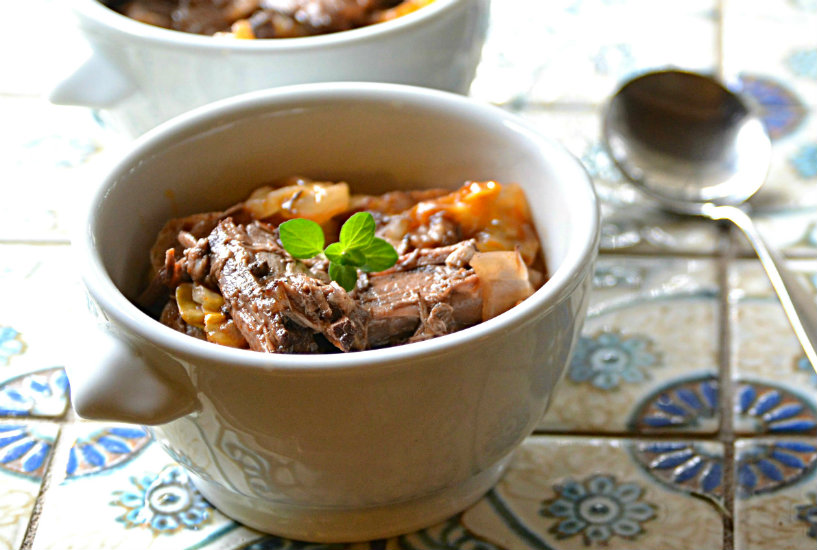 What do you do on a gloomy day? I make sopas! Usually my brother's recipe, here. But today I'm trying a new recipe. I like the idea of this one … It's full of red wine, my favorite flavor. And it's a manageable recipe for 12 or so. Both recipes are delicious and revolve around fond family memories. You really can't get better than that! Thank you Julie for sharing your Great-Grandmother's Recipe. I love it! Here's where Julie & I met, right on my Portuguese Sopas Pin. Thank you again Cardoza Family.
5 Pound chuck roast
2 Large onions-chopped
4 Cloves garlic-minced
12-15 Ounces tomato sauce
3 Tablespoons pickling spices-placed in a tea strainer or spice bag
3/4 Teaspoon ground allspice
3 Cups of red wine, such as burgundy
Water to cover
Salt to taste
Head of cabbage-cut into quarters and then again, 1/8th sections
Stale sweet crusted bread, French bread-sliced
12 Sprigs of mint (larger than the herb pictured)
Layer the first 8 ingredients in a dutch oven, place lid, and simmer for 6 hours or until meat falls apart easily. I like a chuck roast with some bone and not too lean for a little extra flavor.
Taste for salt need. I used 3 teaspoons salt. You may use more or less.
Add the cabbage, replace lid, and cook until the cabbage is al dente or to your taste.
Serve over stale bread with a sprig of mint. I like adding the soup over the sprig as well to impart its aroma.
Enjoy!